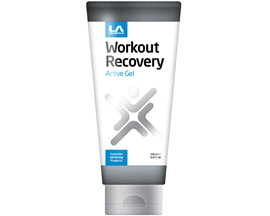 Guaranteed delivery by
Thursday, 12th December
if you order in the next
19 hours and 34 minutes
(choose
Next Day Delivery
at checkout)
Workout Gel
Build muscles with increased blood flow
£29.99
Buy 3 for £79.00
(SAVE £11)
Rub pre-workouts for quicker warm up, more blood & oxygen
Rub after workouts for speedier recovery
Cool gel, reduces chances of post-workout injuries
Big 200 ml tube
100% money back guarantee
LA Muscle Laboratories have created the perfect workout gel that can be used before and after each and every workout to aid muscle building and in the recuperation and repair of your muscles. The LA Muscle Workout Gel is a cool, penetrative gel which you can literally see and feel working within a few seconds of applying it to your muscles.
Here's a breakdown of how LA Muscle's exclusive Workout Recovery Active Gel Works:
Increases blood & nutrient flow locally - The Active Gel increases the flow of blood, nutrients and oxygen. Apply it before working out for amazing results.
Cools and relaxes muscles - Powerful herbs and active ingredients ensure your muscles are cooled down correctly and any chances of post workout injuries are reduced.
Directly increases muscle definition and size - By acting as a powerful catalyst for muscle recovery and recuperation after each workout.
Ideal for muscle maintenance: Apply even when not working out to keep muscle tone and definition.
Over 10 amino acids - That are applied directly to your muscles for instant, speedy muscle repair.
LA Muscle's Workout Active Gel is a fantastic product for anyone working out in or out of a gym. Perfect for athletes, body builders, swimmers, martial artists and anyone and everyone (male or female) who is working out. You can apply it every day to all muscles and it gets absorbed fast. Just try it for yourself for a week and you will see and feel a difference in your muscle definition, recovery from training and overall feeling of how your body is responding to training.
This cutting-edge product comes with LA Muscle's 100% money back guarantee, if you are not happy for any reason. You have nothing to lose. Take your training to a whole new dimension by using Workout Recovery Active Gel after each and every workout.
Limited Edition Gym Workout Towel

Incredibly fresh, premium Eau de Toilette Spray

Quality premium backpack
High quality, durable, padded straps