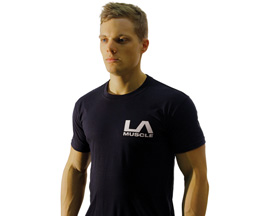 Guaranteed delivery by
Friday, 6th December
if you order in the next
11 hours and 7 minutes
(choose
Next Day Delivery
at checkout)
T-Shirt
Trendy limited edition t-shirt
£14.99
Buy 2 for £25.00
(SAVE £5)
Exclusive t-shirt as worn by LA Muscle champions
High quality t-shirt
The unique LA T-Shirt is finally available to the general public. The T-Shirt is a high quality T-shirt which is tight-fitting and accentuates your physique.
The T-Shirt comes in black with the LA Muscle logo at the front and back. The printing and general feel of the T-Shirt is of the highest quality. The LA T-Shirt is a "limited edition" t-shirt. Don't wait too long before ordering as they may well be gone! Whether you are an 18 stone bodybuilder or a 10 stone beginner, LA Muscle guarantees that you will "love" the way the T-shirt makes your physique look.
Show off your physique
You can get the T-Shirt in sizes: small, medium, large and Extra large. This exclusive t-shirt will definitely show your physique off!
The LA T-Shirt has been designed to look trendy, complement your physique, be washed many times and last for a long time - Not your average cheap T-shirt. Order one today and see how you like the compliments on your physique.

7 days supply of the world's strongest fat burner

Exclusive LA Muscle Privilege Club
Top fat loss supplements Slim Whey & Slim Bar
No.1 appetite control/slimming patented chewing gum