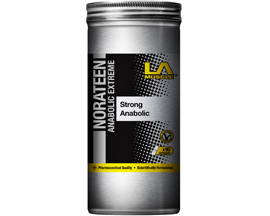 Guaranteed delivery by
Tuesday, 21st May
if you order in the next
8 hours and 7 minutes
(choose
Next Day Delivery
at checkout)
Norateen EXTREME
Extremely strong muscle builder, not for under 20s
£74.99
Buy 3 for £180
(SAVE £45)
Generation III Limited Edition Aluminium Tub (World First)
Extremely strong muscle builder
7 amazing body building agents
Not for anyone under 20
Works in 7 days or less
An extremely strong new muscle builder for bodybuilders
Norateen Extreme is a very powerful muscle builder which triggers the most fertile muscle building environment for bodybuilders wanting to get very big, strong and muscular without resorting to dangerous drugs. Norateen Extreme is a 100% natural and is backed by LA Muscle's R&D and scientific team, guaranteeing you the most extreme gains without any side effects.
Only for bodybuilders, not for athletes
Due to the way Norateen Extreme has been formulated, this supplement is not recommended to athletes or anyone who is not doing heavy weight training. Norateen Extreme is the most powerful strength and muscle building trigger on the market today and is ONLY recommended to bodybuilders and those doing weight training. Not to be taken by athletes or anyone not engaged in weight training.
Here's what you will see, feel and experience...
Norateen Extreme will trigger an unbelievable increase in your strength in the gym. This is done through a patent-pending formula which increases Male Hormone and Growth Hormone, naturally from within your body. You will be able to lift a lot heavier weights, demanding more muscle growth from every muscle in your body. Eat well, rest, sleep and take in high amounts of A-Grade protein like
LA Whey
and you will see yourself staring to get massive in as little as 1 week. The best way to get the full benefits of Norateen Extreme is to train like a powerlifter, doing heavy compound movements such as: Squats, Bench Press, Shoulder Press, Deadlifts, Barbell Rows on a split routine.
How is Norateen Extreme different from other Norateens?
Norateen Extreme is a combination of all other Norateens in a new turbo-charged formula. Unlike other Norateens which can be taken by all, Norateen Extreme should only be taken by bodybuilders doing very heavy training and wanting to build a great deal of muscle fast. Norateen Extreme is also NOT to be taken by anyone under 20.
Limited Edition Generation III Aluminium Tub
Norateen Extreme comes in an incredible new Generation III tub from LA Muscle. This amazing new container has been researched and developed to be at the cutting edge of packaging for sports supplements. Here's why:
Unique World First aluminium container keeps Norateen Extreme cooler, increasing potency
Norateen in this container is kept in total darkness, increasing shelf life and potency
Tub lining guaranteed for 5 years, meaning no contamination with the supplement (other cheap containers can cause contamination)
Hard aluminium case protects capsules from breaking or getting damaged
Only Norateen Extreme comes in these amazing new Generation III Limited Edition LA Muscle tubs with a free exclusive LA Muscle string bag which further protects your Norateen Extreme.

Exclusive LA Muscle Privilege Club

7 days supply of the world's strongest fat burner

No.1 Instant Size Gym Supplement, works in 15 mins

Lose weight & Block Fat