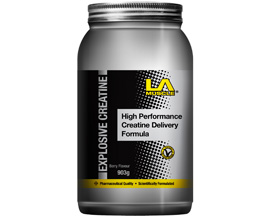 Guaranteed delivery by
Monday, 16th December
if you order in the next
7 hours and 2 minutes
(choose
Next Day Delivery
at checkout)
Explosive Creatine
More speed, endurance and stamina
$102.30
Buy 3 for $255.80
(SAVE $51)
"Best Results" Men's Health Magazine
Recommended Creatine Product: Men's health Mag
100% money back guarantee
5 super-effective uptake agents
Explosive Creatine is the only Creatine formula to contain five of the most effective proven Creatine uptake agents in one tub. This product has been a best-seller in over 100 countries since 1998. Do not accept copy-cat or "me-too" supplements. There is only one scientifically researched and tested Creatine best-seller that produces results for everyone every time and that is LA Muscle's Explosive Creatine.
"Recommended Creatine" Men's Health Magazine
"Best results" Men's Health Magazine
Pure creatine monohydrate
Explosive Creatine contains 100% pure Creatine Monohydrate - Now super-micronised for even quicker dissolving and delivery. You get dextrose, which is the cause of the essential "spike". This "spike" is the first trigger which shuttles Creatine into your muscles.
Taurine
Explosive Creatine contains Taurine which is a powerful delivery agent. You then get L-Arginine, the most effective of the Creatine precursors. To take a super supplement to even more advanced levels, you also get Sodium & Potassium Phosphates. This means that you get the most effective uptake agents in the world in one supplement, guaranteed to work.
Delicious berry-fruit-punch flavour
Explosive Creatine is berry-fruit punch flavoured. This flavour is the best tasting Creatine formula you will ever try! It has been specially developed and leaves no after tastes which you might get with cheaper formulas. The formula in Explosive Creatine is a precise combination which has been scientifically developed. Many competitors have tried to copy this formula, but none have come anywhere close to the results Explosive Creatine gives you.
One of the world's best-selling creatine formulas
Explosive Creatine was launched in 1998. Within weeks of its introduction, it had become one of the best selling Creatine supplements in the UK. It has now also become a best seller across the world. This Creatine product has had rave reviews in various publications, including Muscle & Fitness. You cannot get a more advanced Creatine delivery formula.
Explosive Creatine will give you quick, natural and lean muscular gains. Forget about gimmick liquids, fizzy Creatines etc. Stick to what science has shown to be the best; take Explosive Creatine. Unlike many hyped up Creatine formulas, Explosive Creatine will not bloat you. It will give you quick, natural and lean muscular gains. It will also improve your stamina, energy and speed.
If you are looking for a very strong Creatine formula that delivers results every time, look no further than Explosive Creatine.
Chosen by Men's Health Magazine
THIS PRODUCT IS CHOSEN BY MEN'S HEALTH MAGAZINE FOR THEIR BEACH BODY CHALLENGE
If you wish to read about some "real life" unbiased results from this product please check out the Men's Health Beach Body Challenge.

Bourne-Style Self Defence on The Streets, learn at home

Voted: "Best Muscle-Building Pills", Reviewed on BBC, SKY, Freesat

Quality premium backpack

Top 3 muscle building & recovery amino acids in exact ratios