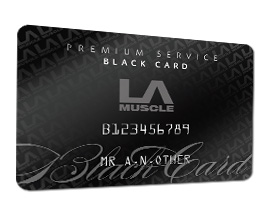 Black Card
Double Rewards on ALL orders
£50.00
FREE UK next day delivery on ALL orders
Dedicated customer services team
60 day money back guarantee
Free gym passes & train with the stars
Many other exclusive benefits
The LA Muscle Black Card is for those who demand the highest level of service and benefits. As an LA Muscle Black Card Member you will receive a service that is second to none. You will also be part of an elite club offering you experiences and rewards not available to others.This includes things such as free day gym passes to some of the top gyms in the UK, free training sessions with some of the UK's top personal trainers, discounts off products, gift vouchers and so much more...
Click here to read more about the black card. Current benefits include:
Free guaranteed UK next working day delivery on ALL orders placed before 2 p.m. (normally £6.95).
Double LA Muscle Rewards points on ALL purchases on lamuscle.com (giving you free products in half the time!).
Priority dispatch for all your orders even during busy times.
60 day money back guarantee on all products (normally 30 days).
Dedicated Black Card Members email access with a guaranteed same day response.
Dedicated Black Card Members customer services team.
Free Exclusive LA Muscle Backpack with all new Black Card sign ups.

Exclusive deals negotiated on your behalf. Some current deals are: Free Day Pass and low Corporate Rates for Fitness First Gyms, Discounts off Virgin Experience Days, Free wine with holiday bookings, discounts on Chauffeur Services in London and more... We are adding more benefits for members regularly including FREE "Train with the Stars" workout sessions. You will only get to know of these if you are a member.
High quality, durable, padded straps

Pre Workout Male Hormone Muscle Generator
Top fat loss supplements Slim Whey & Slim Bar
Six Pack Pill, Six Pack Pill Extreme, FatStripper Intense