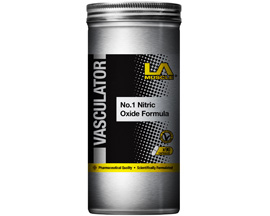 Guaranteed delivery by
Tuesday, 10th December
if you order in the next
50 minutes
(choose
Next Day Delivery
at checkout)
Vasculator
WINNER: Men's Health Supplements Awards 2012
$118.87
Buy 3 for $288.71
(SAVE $68)
4 pump products in 1
Builds muscle & strength
100% money back guarantee
The only supplement with all 4 proven blood flow pump agents
Vasculator is GUARANTEED to give you the most amazing pumps in and out of the gym. Without the "pump" and proper muscle contraction, you will struggle to build maximum muscle size. Vasculator guarantees that you get that elusive full muscle contraction each and every time. This is crucial if you want real results and fast.
Common areas to pump up are the arms, chest, back, shoulders and legs. Vasculator really is something completely different and very unique.
It works by expanding blood not by water retention
The beauty of Vasculator is that it works just like or even better than Creatine and it does it by not having anything to do with water balance/retention in your body. This is why Vasculator is such an amazing product as firstly it can be taken by competitive body builders even on the day of competition and secondly it can be taken "alongside" Creatine to give you double the results.
Vasculator enables more blood to be pumped into your muscles. This blood carries with it, oxygen, proteins, carbs and nutrients. The more pumped you get, the stronger and more muscular you will get over long term.
Massive advantage by working instantly
The huge advantage of Vasculator over other products is that it gives you almost instant results. If you regularly go to the gym and get a pump every now and then, you will be completely astonished by Vasculator's immediate power. This product has been designed to get to work instantly and make you and those around you see and feel the results.
Your gym friends and on-lookers will not recognise you...we promise! You will look like you are a "real" body builder as opposed to some underweight guy working out!
Completely natural
Vasculator is a completely natural product and can be taken by IOC athletes as well as natural body builders. This really is a hard-core body building product so is best suited to those training with heavy weights on a regular basis.
Competitive bodybuilders MUST take this product on competition day or they will regret it! You can't go on stage without the extra size & pumps.
LA Muscle were the first company to bring you Citrulline into the UK. You find this and many more powerful ingredients in Vasculator - give it a try and see what a REAL pump product is all about!
Winner: Men's Health Magazine Supplements Awards 2012
High quality, durable, padded straps

6 ingredient super fat loss product
Confidence & sexual booster, 100% money-back guarantee

Lose weight & Block Fat