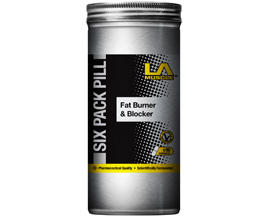 Guaranteed delivery by
Monday, 16th December
if you order in the next
14 hours and 47 minutes
(choose
Next Day Delivery
at checkout)
Six Pack Pill®
Works in 3 days! Blocks & attacks fat, ideal for rapid 6-pack abs
$85.38
Buy 3 for $222.04
(SAVE $34)
100% natural and safe with zero side effects
Gets your six pack & abs out fast
100% money back guarantee
The world's only real six pack pill
The Six Pack Pill is an exclusive LA Muscle Generation II™ formula for total fat loss, giving you that solid six pack abs that you have always wanted. The Six Pack Pill's unique formulation burns fat and blocks the absorption of fat too.
The Six Pack Pill ensures you don't accumulate any new fat and at the same time it gets to work on your current body fat and blasts it away to give you that ripped look, ready for the beach. The Six Pack pill is an EXTREMELY strong abs and six pack formula that is guaranteed to work in just days with a 100% money-back guarantee. There is no other specialist six pack pill in the world.

A ripped beach body does not happen by accident or with hundreds of sit-ups. Get the exclusive Six Pack Pill today and be on your way to an incredible set of abs. Works best with a good cardiovascular exercise regime, giving you amazingly quick results.


The only book you'll need for muscles & fat-loss

Innovative gel for better workouts and quicker recovery, see it working fast!

The ideal belt for serious bodybuilders
Amazing value, everything you need to get big in 1 month