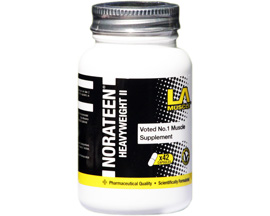 Guaranteed delivery by
Friday, 13th December
if you order in the next
16 hours and 51 minutes
(choose
Next Day Delivery
at checkout)
Norateen® Heavywt II Trial
7 days supply to see & feel the power of Norateen - Limited Edition Tub
$42.50
Buy 3 for $102.03
(SAVE $25)
As seen on the BBC & SKY TV
Voted: No.1 Muscle Builder by Men's health Mag
100% safe & natural, can be taken by beginners
World's best selling male hormone muscle supplement
100% money back guarantee
Voted no.1 by Men's Health Magazine
The original Norateen Heavyweight was banned in the UK due to its sheer strength. LA Muscle gives you Norateen Heavyweight II as seen on BBC TV, SKY and sold in over 100 countries worldwide. Undoubtedly the strongest muscle-builder and male hormone booster available on the market today. Norateen Heavyweight II is one of the World's TOP-SELLING male hormone supplements, outselling every other muscle & strength product on the market. Other companies may claim to sell you stronger but ONLY Norateen Heavyweight II has a sales record in the millions across 5 continents and has been reviewed and extensively discussed on BBC television (Rugby Special, BBC2). Don't be fooled by copy-cat or "me-too" or cheaper products. There is only one Norateen brand and that is the creation and Registered Trademark of LA Muscle.
Voted Europe's No.1 Muscle Product by Men's Health Magazine, click here to read more.
Create the perfect environment for muscle growth
Norateen Heavyweight II gives you more male hormone boosters and also Growth Hormone boosters in the form of:
Mucuna Prureins - Scientifically shown to increase male hormone levels, Growth Hormone levels, deposit more protein in muscle tissue, increase strength and muscle mass.
Fenugreek - Amazingly powerful and totally natural male hormone booster.
Beta Ecdysterone - LA Muscle are the pioneers of Beta Ecdysterone (we own betaecdysterone.com) and only use pure Beta Ecdysterone in the exact dosage recommended by science.
DIM & Methoxyisoflavone - Great for increase in lean muscles, anti-catabolism and estrogen reduction.
Amazing strength & muscle gains
It has been shown that the Norateen range of products work even better with a quality whey protein such as LA Whey or Bio_Activator. Keep your protein intake as high as you possibly can and you will truly be amazed that Norateen Heavyweight II is this strong and legal.
As a guideline, you should take at least 1.5 to 2 grams of quality protein per lb of bodyweight per day. This should be spaced out throughout the day. You should also train heavy and hard, on a split routine... but don't overtrain. Train each bodypart no more than once every 6-7 days. If you have got the budget, combine Norateen Heavyweight II with Norateen II for even more results, faster.
Winner: Beach Body Challenge
THIS PRODUCT IS THE CHOICE SUPPLEMENT FOR THE MEN'S HEALTH MAGAZINE BEACH BODY CHALLENGE
If you wish to read about some "real life" unbiased results from this product please check out theMen's Health Beach Body Winner.

High Quality Durable Shaker, ideal for protein & weight gain drinks

Patented weight loss formula, protects muscles, 100% natural

Exclusive cutting edge penetrative six pack cream

Best-selling book on boosting the immune system and avoiding colds