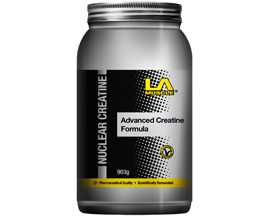 Guaranteed delivery by
Wednesday, 11th December
if you order in the next
19 hours and 24 minutes
(choose
Next Day Delivery
at checkout)
Nuclear Creatine
Extreme Action Creatine
£83.99
Buy 3 for £210.00
(SAVE £42)
Gets to work right away, see and feel the difference.
Patent-pending exclusive formula
Contains the exclusive Aspartic Acid
6 incredible ingredients
Delicious strawberry flavour
100% money back guarantee
Contains the exclusive amazing Aspartic Acid
Nuclear Creatine contains the rare amino acid: Aspartic Acid. This incredible supplement has been demonstrated to directly increase:
Blood flow - Meaning more pumps in the gym
Male Hormone - More muscle, strength, energy and endurance
Growth Hormones - For more muscle mass
Gets to work right away!
Mix a scoop with some water and drink just before working out. You will not believe your eyes. Nuclear Creatine's exclusive ground-breaking formulation gets to work instantly. Take Nuclear Creatine and you will see:
Results in the gym right away - More muscle pumps, more strength, bigger and harder muscles.
Bigger body within just 7 days.
More strength, fullness and muscle definition.
Total change in size and body shape. Nuclear Creatine is quite simply incredible.
Exclusive patent-pending super-delivery formula
Nuclear Creatine is an incredible formula containing super-micronised Creatine as well as 4 other synergistic uptake agents.
Citrulline - Increases muscle pumps & contraction. Scientifically shown to increase athletic performance.
Taurine - Turbo-charger of Creatine and energy levels.
Arginine - Shuttle agent for Creatine, increasing its performance and delivery ten-fold.
Dextrose - The correct amount of dextrose in Nuclear Creatine ensures it works in record time.
Nuclear Creatine is THE strongest creatine formula you can get, combining amazing "instant
get big fast
" ingredients for the gym with more long term muscle & strength activators. You cannot get anything stronger - this is 100% guaranteed by LA Muscle.
Product Science
Bendahan D, Mattei JP, Ghattas B, Confort-Gouny S, Le Guern ME, Cozzone PJ (Aug 2002). "Citrulline/malate promotes aerobic energy production in human exercising muscle". Br J Sports Med 36 (4): 282–9.doi:10.1136/bjsm.36.4.282. PMC 1724533. PMID 12145119.
Andrew, P.J.; Myer, B. (August 15 1999). "Enzymatic function of blood flow synthases".Cardiovascular Research 43 (3): 521–531 REVIEW. doi:10.1016/S0008-6363(99)00115-7.PMID 10690324.
U. Warskulat, U. Flogel, C. Jacoby, H.-G. Hartwig, M. Thewissen, M. W. Merx, A. Molojavyi, B. Heller-Stilb, J. Schrader and D. Haussinger (2004). "Taurine transporter knockout depletes muscle taurine levels and results in severe skeletal muscle impairment but leaves cardiac function uncompromised".Faseb J. 18 (3): 03–0496fje. doi:10.1096/fj.03-0496fje. PMID 14734644.
Chen, Philip E.; Geballe, Matthew T.; Stansfeld, Phillip J.; Johnston, Alexander R.; Yuan, Hongjie; Jacob, Amanda L.; Snyder, James P.; Traynelis, Stephen F. et al. (2005). "Structural Features of the Glutamate Binding Site in Recombinant NR1/NR2A N-Methyl-D-aspartate Receptors Determined by Site-Directed Mutagenesis and Molecular Modeling". Mol. Pharmacol. 67 (5): 1470–84. doi:10.1124/mol.104.008185.PMID 15703381.

Extreme action 6 pack developer

Specialist High Quality Gym Workout Towel

Incredibly fresh, premium Eau de Toilette Spray

Catalogue