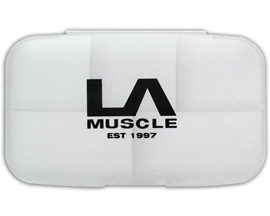 Guaranteed delivery by
Monday, 9th December
if you order in the next
2 hours and 37 minutes
(choose
Next Day Delivery
at checkout)
Pill Box
Original durable German Made pill box
$5.09
Buy 4 for $17.00
(SAVE $3)
5 generous compartments
Tough and durable
The toughest, most durable pill box ever made!
LA Muscle's exclusive pill boxes are the original patented German Made pill boxes as recommended by Pharmaceuticals for carrying your pills.
The LA Muscle pill box is see-through, tough and lasts even in the most used gym-bags. You get 5 compartments, 2 large and 3 smaller.
If you take any tablets or pills and you are fed up with having to carry ten tubs everywhere, then the LA Muscle Pill Box is your ideal solution. Try one and see. You will love these little gems.
High quality, durable, padded straps
Six Pack Pill, Six Pack Pill Extreme, FatStripper Intense
Men's Health Magazine: Best Muscle Pill Awards 2012

Exclusive cutting edge penetrative six pack cream