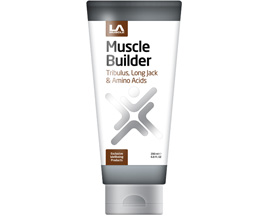 Guaranteed delivery by
Friday, 6th December
if you order in the next
4 hours and 39 minutes
(choose
Next Day Delivery
at checkout)
Muscle Builder Gel
With male hormone boosters
£29.99
Buy 3 for £79.00
(SAVE £11)
Packed full of amino acids
Quick dissolving, easy to apply cream
Big 200ml tube
100% money back guarantee
Muscle Builder Gel is an innovative new product developed over two years by LA Muscle Laboratories. Muscle Builder Gel is a penetrative quick dissolving gel which can be rubbed into most major muscles to enhance and assist their growth. Muscle Builder's active ingredients are absorbed through the skin and the small capillaries underneath the skin.
Muscle Builder Gel has been extensively researched and tested on subjects with results varying from "noticeable to significant" muscle enhancement. Muscle Builder Gel is not a miracle cream which can be rubbed by sedentary individuals to make them look like the Hulk. This is a unique formula to assist those already engaged in physical activity. If you are training with weights and working out, you can use Muscle Builder Gel to further enhance the look, size, strength and recovery periods for your muscles and to protect them. It really works! You have nothing to lose by trying it as it comes with LA Muscle's 100% no questions money back guarantee - which applies even if you have used the whole tube.
Take a closer look at LA Muscle's Muscle Builder Gel:
4500mg of ingredients per tube to increase muscle building male hormones
Unique blend of amino acids to increase blood flow, speed up muscle recovery and aid muscle growth
Exclusive penetrative formula without harmful additives
SLS and Paraben Free formula
Easy to apply, no mess
Muscle Builder Gel is not a greasy, horrible gimmicky cream that you often get with small companies. Muscle Builder is a professionally formulated and developed fragranced gel of the highest standards and quality. LA Muscle would claim this is the best muscle builder gel out of all others however we cannot do this as there are no competitors to this amazing new formula! You just have to take our word for it and give this new super-gel a try. Don't worry about how it works. It just works and we give you LA Muscle's 100% guarantee that it really does work. If you are serious about building and enhancing your muscles and you want an extra addition to take the look and hardness of your muscles to a new level, then try LA Muscle's Muscle Builder Gel. You will love it.
Premium Slimming & Weight Loss Protein with REAL fruit pieces

Exclusive LA Muscle Privilege Club
Top fat loss supplements Slim Whey & Slim Bar
No.1 appetite control/slimming patented chewing gum