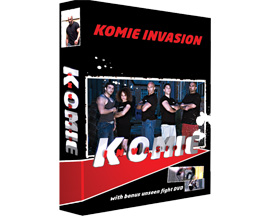 Komie Invasion DVD
Officially Certified 18 by the BBFC
£29.99
The world's most advanced self defence technique
As seen in the Bourne films
7 episodes including real-life street fighting
Discontinued
Everything you want to learn about Krav Maga & self defence - one for the collection
The Hardcore Training DVD box-set features British Bodybuilding champion Krav Maga is the REAL self defence technique of people in the know. You have probably seen some of the techniques in the Bourne films with Matt Damon.
This unique and totally exclusive DVD series is a full instructional Krav Maga course. Imagine learning this amazing and very powerful self defence technique in the comfort of your own home. You will learn techniques that will help you in all sorts of real life danger situations.
Whether you are a beginner or an advanced martial artist, you will not want to stop watching Komie Invasion. This 7 series DVD set features actors, thugs, martial arts experts and of course your celebrity Krav Maga instructor Komie.
This DVD set is like no other you have ever seen. You will see real-life fight scenes and anti-attack, anti-terrorism moves produced and directed by one of Britain's most talented action film directors. In fact, parts of this DVD series were considered so "real" and violent that the British Board of Film Classification certified them as 18.
You will learn, you will be thrilled, you will not want to take your eyes off the TV screen and you will not be disappointed. 100% money back guarantee. There is nothing else like Komie Invasion. Even if you see another instructional Krav Maga video, it will not be "film-like" the way Komie Invasion is.
WARNING: Parts of this DVD set have been officially certified as 18. Not suitable for anyone under 18. If you have a sensitive nature, please do not watch Komie Invasion. Contains scenes of realistic-looking violence with bats, guns, knives, blood, drug use and sexual attacks. These are all featured to enhance the techniques of Krav Maga and demonstrate the real dangers in society and how to protect yourself and your loved ones.

High Quality Durable Shaker, ideal for protein & weight gain drinks

The ideal belt for serious bodybuilders
Best-selling protein, 48g protein, instant mixing, great taste

7 days supply of the world's strongest muscle builder