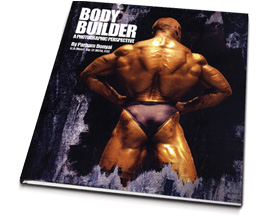 Guaranteed delivery by
Tuesday, 10th December
if you order in the next
13 hours and 53 minutes
(choose
Next Day Delivery
at checkout)
Body Builder, the book
Over 180 photos, interviews, advice
£14.99
Buy 3 for £39.00
(SAVE £6)
Glossy book with over 180 exclusive photos and interviews with top body builders
An exclusive book of photos and secret advice from the professionals
Body Builder is an exclusive book with many photographs never seen before. Body Builder contains over 180 glossy photos of men and women body builders as well as numerous interviews with top body builders from around the world.
Body Builder has been in the making for many years and it is now finally available to LA Muscle customers exclusively.
180 quality photos
Body Builder contains a vast selection of some amazing photographs from the sport of body building. You will see back-stage shots, stage shots, exclusive photo shoots of both men and women who are well-known and respected in body building.
Body builder contains artistic black and white shots as well as great colour photos. This book is printed in thick glossy paper with an outside cover and the inside pages have been stitched to ensure long-term durability.
Great interviews too
Body Builder is not just a photo book. You can also read exclusive interviews with some of the greats of body building. People like Jamie Cameron, Mr New Zealand, Rob Feesey, one of this country's best ever natural body builders, Flavia Crisos, Miss Brazil, Kerry Napier, BNBF UK Overall Body Building Champion and so many more body builders share their secrets with you.
The body builders featured in this book tell you all about their beginnings, their motivation, their training, their secret methods, their diets and so much more... information that they have NEVER shared before until now!
A must for any body building fan
As a body builder, you already know that there are no real books with "recent" photos of current well-known body builders. Sure, you get tons of photos on the Internet but wouldn't you want to own a piece of history?
Body Builder is set to become a collectable item due to its uniqueness and quality. 120 pages of photos, advice, interviews and BEEF!
The great thing about Body Builder is that it features both men and women and is inspirational for both sexes. Whether you have a slight interest in building muscle and losing fat or you are a hard-core body builder, this book MUST be on your shelves. It is the ULTIMATE Body Building book and completely up to date.
Make sure you order your own copy of Body Builder, A Photographic Perspective right now.
For a clip of what the book looks like, click here.

7 days supply of the world's strongest fat burner

Exclusive LA Muscle Privilege Club

High Quality Durable Shaker, ideal for protein & weight gain drinks

Highest quality premium genuine leather gloves