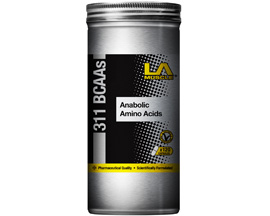 Guaranteed delivery by
Monday, 9th December
if you order in the next
9 hours and 48 minutes
(choose
Next Day Delivery
at checkout)
311 BCAAs
Top 3 muscle building & recovery amino acids in exact ratios
£49.99
Buy 3 for £130.00
(SAVE £20)
3 Critical Amino Acids in Exact Ratios
Powerful Formula for Muscle Recovery
Great Muscle Building Supplement After Training
100% money back guarantee
Amino acids for muscle mass
LA Muscle Branch Chain Amino Acids 311 BCAAs contain the 3 most important amino acids for muscle building and muscle recovery. 311 BCAAs contain Leucine, Isoleucine and Valine in the exact ratios as shown in scientific studies to build muscle recovery.
BCAAs taken in any other ratio other than 3-1-1, will not work to aid recovery or build muscle. You may get other Branch Chain Amino Acid formulas which have just thrown in amino acids for good measure. Only the 3-1-1 ratio has proven to dramatically aid muscle recovery and muscle growth.
Optimal times to take LA Muscle's 311 BCAAs are immediately after training and just before sleep. LA Muscle guarantees noticeable and fast results from this scientific formula. This is THE BCAA FORMULA for guaranteed results.
You can read more about Amino Acids here.
LA Muscle's 311 BCAAs is recommended by Men's Health Magazine.
Product Science
Castell LM, Poortmans JR, Leclercq R, Brasseur M, Duchateau I, Newsholme EA. Some aspects of the acute phase response after a marathon race, and the effects of glutamate supplementation. Eur. J. Appl. Physiol. Occ. Physiol 1997; 75: 47 53.
CrossRef,PubMed,Web of Science® Times Cited: 108
Blomstrand E, Ek S, Newsholme EA. Influence of ingesting a solution of branched-chain amino acids on plasma and muscle concentrations of amino acids during prolonged submaximal exercise. Nutrition 1996; 12: 485 90.
CrossRef,PubMed,ChemPort,Web of Science
Confidence & sexual booster, 100% money-back guarantee
World's first slimming aid patented chewing gum

Bourne-Style Self Defence on The Streets, learn at home

Anti Stretch-Mark Cream