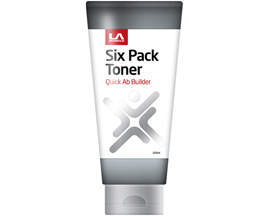 Guaranteed delivery by
Monday, 16th December
if you order in the next
13 hours and 24 minutes
(choose
Next Day Delivery
at checkout)
Six Pack Toner
Contains clinically proven active ingredient
£29.99
Buy 3 for £79.00
(SAVE £11)
17x more release of local fatty acids
Reduction of abdomen volume by up to 6.2%
Reduction in abdomen circumference by up to 2cms
Visible difference in appearance of abs & six pack
100% money back guarantee
What is Six Pack Toner?
LA Muscle's Six Pack Toner is an innovative cutting-edge product that helps you in your quest for a six pack. Six Pack Toner has an active ingredient that when applied locally, has been shown to accelerate the release of fatty acids by up to 17 times. Six Pack Toner is also fortified with muscle enhancing amino acids. Six Pack Toner has to be applied daily and the results are usually seen within 2-4 weeks.
In the quest for that elusive six pack, most people use diet, exercise and supplements and get quite close but never truly see their abs and six pack. LA Muscle's Six Pack Toner contains an active ingredient clinically proven to help. Furthermore, Six Pack Toner has been extensively researched and tested to ensure it gets absorbed through the layer of the skin. You will see this amazing gel dissolving into your skin from the very first application.
Unique Active Ingredient
Six Pack Toner's main active ingredient is Ficus Carica. LA Muscle is using a specific version of this plant, harvested in a unique region and only in the month of April. Ficus Carica has been shown to have Lipolytic activity on adipose tissue i.e. breaks fat down. Some cosmetics giants use this ingredient in their fat reduction creams but due to its low availability and high cost, it has not been used in the sports industry - until now.
Availability changes and we cannot guarantee stock levels for Six Pack Toner - if you see "in stock", please order to avoid disappointment.
Six Pack Toner
LA Muscle took the results of a major study and commissioned its own R&D team to start working on Ficus Carica to produce a viable formula that can be a powerful tool for those seeking to have a six pack. Over 1.5 years of research, samples, testing, re-testing and going back to the drawing board and in late 2011, LA Muscle R&D team finally reached a satisfactory formula which was then handed over for further application testing. At the same time, volunteers were used to test out this new super-gel. The results were even better than the study with most subjects seeing "noticeable to significant" difference in the appearance of their six pack.
How does Six Pack Toner work?
Six Pack Toner is not a magic cream and you will not see your abs and six pack appearing overnight. What it will do, is to make a significant contribution to the appearance of your six pack. Six Pack Toner's specific amino acids will work on the abdominal muscles and it's main active ingredient will increase the movement of fat. If you are exercising, especially doing cardio, eating right, taking the right supplements like
The Six Pack Pill
you will see your six pack starting to appear. What the Six Pack Toner will do is to assist you in those last stages where a layer is covering your abs.
With a very positive clinical study behind its active ingredient and LA Muscle's own lab and field testing, you will 100% see a difference in the appearance of your six pack by using the Six Pack Toner. If you are sceptical, then you have every right to be as this is a very innovative product and breaks new ground in many ways. The undeniable fact is that the product works and works well. You must try it and see for yourself. You have nothing to lose as it comes with LA Muscle's 100% money back guarantee if you are not happy for any reason. We are not here to sell you gimmicks. This is a genuine innovative new LA Muscle product that has had a great deal of investment and 2 years of research poured into it. For any serious athlete or body builder, looking to get the very best physique, Six Pack Toner is a must. This is a world first and the reason why you don't see similar products is because no other company has developed such a product apart from LA Muscle. Totally exclusive and totally amazing. Try it.
The Clinical Study
A clinical study over 56 days of 20 men between the ages of 29-40 was carried out on a cream with a specific percentage of Ficus Carica. They applied the cream twice daily and an exclusion factor of +/-2kg in weight was allowed for them. The subjects' abdominal volume was measured by 3D optical method (FOITS) and a further centimetre measuring was used for their abdominal circumference. At the end of the study, on average the improvements shown by volunteers were 6.2% abdominal volume reduction and 2 cms abdominal circumference reduction.
Incredible new flavour, 10% extra free

The only book you'll need for muscles & fat-loss

Incredibly fresh, premium Eau de Toilette Spray

Original durable German Made pill box