Win 1 Year's Supply of LA Whey Gold Protein worth £960!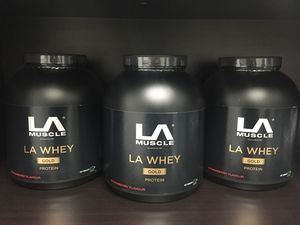 2015 is the year to smash your training goals, and LA Muscle are giving you the perfect opportunity to help you achieve them. Enter this competition for your chance to win 1 year's supply of premium protein supplement, LA Whey Gold!
LA Whey Gold is a 100% natural protein shake, free of any artificial additives and sweetened only with the new, natural, and 100% safe Stevia plant. It is 100% pharma-grade whey protein with no cheap fillers, and will mix instantly, assuring you of the finest quality due to the cross-flow-micronised production process that LA Muscle utilise.
Available in 5 delicious flavours, this amazing prize, will certainly help you smash your 2015 goals!
No purchase necessary, just enter for free by answering the following question. A winner will be chosen at random.
In what year was LA Muscle established?
You need to login to or create your FREE LA Muscle user account to submit your answer.
1 year's supply of LA Whey Gold amounts to 12x 2.2kg tubs. 1 tub of of LA Whey Gold will be distributed per month. No purchase necessary. Winner will be chosen at random from all entries. Competition ends 31st January 2015. T&C apply.