WIN an amazing holiday to Las Vegas with LA Muscle and Creed.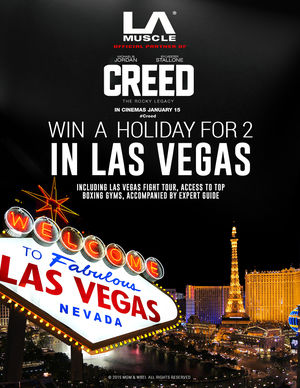 To celebrate the release of CREED at cinemas January 15, LA Muscle are giving you the chance to win an amazing holiday to LA Vegas including fight tour. For a chance to win, simply answer the following question:
What sport is the Rocky franchise associated with?
You need to login to or create your FREE LA Muscle user account to submit your answer.
1. Entrants must be 18 years or older. One winner will be chosen at random.
2. The competition will close at 31 January 2016
3. Submission of an entry constitutes acceptance of competition rules and any instructions or requirements set out in any promotional material related to the prize draw. In the case of conflict between these rules and any other instructions or requirements, these rules shall prevail. The prize draw is not open to those who are employees, agents or representatives of LA Muscle LTD or Paramount or their respective advertising and promotional agencies, any other person connected with this prize draw or members of their respective immediate families or those domiciled with such families.



Prize T&C:
a. Winner must be over 18 years old.
b. The prize is not transferable or exchangeable, cannot be redeemed as cash and cannot be used in conjunction with any other special offer. There is no cash alternative or refund for unused portions of the prize.
c. In order to be eligible for a prize, entrants must provide personal details as requested by the Promoter and which may include name, date of birth, address, telephone number and/or email address. Any potential winner and his/her proposed guest will be required to sign a prize acceptance and release form in order to be eligible to win and/or participate in the prize. Any potential winner and his/her proposed guest will be required to sign a prize acceptance and release form in order to be eligible to win and/or participate in the prize. All personal details will be processed in accordance with the Promoter's privacy policy at http://www.lamuscle.com/about/privacy.php
d. The Promoter reserves the right to substitute prizes of equal or greater value at any time.
e. The Promoter is not liable for any delay or failure to perform any obligation to the winner or other entrant (and/or guests) that is caused by any circumstance beyond its reasonable control or by any act or omission of any third party.
f. The Promoter has the right to select an alternative winner if:
1. the winner is ineligible to enter the competition
2. the Promoter does not receive confirmation of the winner's address and/or parental consent within 7 working days of any request;
3. the Promoter does not receive from the winner all documentation required in connection with the prize within the deadline notified by the Promoter;
4. If the first winner does not claim their prize within the specified time frame given by promoter, the winner's claim will lapse and automatically become void. If the entry selected is invalid, adjudged void or a prize claim lapses, another entrant may be selected at random from the remaining eligible entries at the Promoter's sole discretion (but the Promoter shall have no obligation to do so)
f. Winners will be notified via email or telephone. The sending of an email to the email address registered by the winner will be sufficient notification for this purpose and the Promoter will not be responsible for any failure by a winner to receive that email. Please note it is essential that you provide the correct email address, otherwise we may not be able to contact the winner for this prize draw and therefore the entry will be considered null and void.
g. Any potential winner will be required to sign a prize acceptance and release form in order to be eligible to win and/or participate in the prize.
h. The winners must be available for press relating to the prize draw. By entering the prize draw, entrants consent to the use of their names and place of residence for publicity purposes relating to this Promotion in any media carried out by the Promoter, without payment or compensation.
I. All instructions relating to this promotion form part of the terms and conditions.
J. The Promoter's decision in the exercise of interpretation of any rights or discretion in connection with these terms and conditions shall be final and binding. Customers who enter the competition will be deemed to have agreed to be bound by these rules and to their interpretation under English law.
K. To the fullest extent permitted by applicable law (but not otherwise) the Promoter assumes no responsibility and is not liable for: (i) the accuracy or otherwise of the prize description or illustration, (ii) any representation, warranty, condition or guarantee in respect of a prize, (iii) the non-availability, failed, loss, late receipt, interception or damage of any entry, prize-claim, prize, notification or other communication, (iv) any circumstances beyond its reasonable control; or (v) any taxes, fees, charges or other costs which winners may be required to pay any time in connection with a prize.

PROMOTER: LA Muscle, Unit 3, Oliver Business Park, London NW10 7JB