The Knowledge > Recipes >
Wednesday, 15th April 2015
Protein Cookies
These protein cookies are a great way to get extra healthy calories in throughout the day if building lean mass is your goal.
By LA Muscle on 15.04.2015 02:46 pm
Ingredients: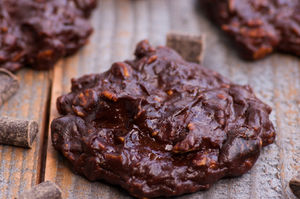 3/4 cup frozen or fresh berries
3/4 cup raw old-fashioned oats
1/3 cup light/unsweetened almond milk
2 scoops LA Whey Gold Chocolate
Chocolate or rainbow sprinkles (optional)
Honey to taste
Directions:
Place berries in a bowl and microwave for 45 seconds. Once finished, mash with a fork.
Add remaining ingredients to create the batter. Make sure to stir thoroughly so all ingredients are evenly mixed.
Place 2-3 tablespoons of batter onto a plate to form each cookie, then place in microwave for 45-60 seconds.
Remove, let cool for a minute or two and enjoy.