The Knowledge > Recipes >
Thursday, 29th March 2012
Peanut Butter Treat
Vanilla Peanut Butter Goodies
Ingredients: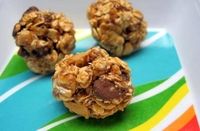 9 tbsp. honey
113g natural peanut butter
2 Scoops LA Whey Vanilla protein Powder
113g oats, uncooked
Directions:
Mix the honey and peanut butter in a microwave-safe bowl and microwave for 1 ½ minutes.
Add the LA Whey protein and oats to the mixture. You can also add almonds, cranberries, and/or raisins for added flavour and texture.
Once the mixture is cool enough to touch, roll into bite-sized balls.
Or smooth the mixture into a tray and let stand for an hour and then cut into 12 equal bars.
Can be stored in a fridge or freezer.
Nutrition:
Protein: 10g
Calories: 64kcal
Carbohydrates: 8g