The Lounge > How To Build Muscle >
Thursday, 29th March 2012
Super-size your muscles
Read all about LA Muscle's very popular Super Size Limited deal and how it can help you AND save you money
Do you want a guaranteed way of getting a bigger chest, bigger arms, shoulders and back? To finally get that muscular body that seems to elude you?

The supplements world can be a maze and very had to navigate. If you make the wrong choices, not only can it not give you the results you are hoping for, but it can also be an expensive "experiment".

LA Muscle has a whole host of powerful and effective supplements that can help you with your goals. You can also take advantage of some amazing money-saving special offers. One of the most popular current deals is the Super Size deal. Read below why this is a sure-fire way of building strength, muscles and looking great.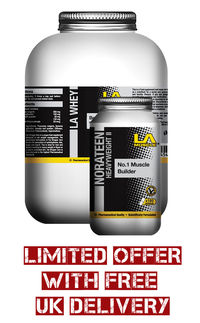 In the Super Size Deal you get:

1 x LA Whey 2.2kg – This protein is as quality and as premium as they come. LA Whey contains 48g of 100% pure whey protein per serving. It is lactose free, very low fat, mixes instantly and contains absolutely no artificial ingredients. LA Whey has a high potassium to sodium ratio which means it gets rid of water retention and helps you get that elusive six pack too.
LA Whey improves recovery from training, increases strength and builds muscle. Due to its high protein depositing capabilities, you have to use much less of LA Whey than most other proteins so surprisingly, it is actually economical and great value for money.
LA Whey comes in 6 delicious designer flavours which are light and not your usual artificial-tasting protein.
Proteins don't usually "guarantee" muscle gains. Most companies tell you that protein will help you in your goals. LA Muscle however PROMISE you that LA Whey will actually build-up your muscles and you will see and feel it working. That's how strong this protein is and how confident LA Muscle is in its powers.

1 x Norateen Heavyweight II – This incredible, ground-breaking sports supplement was the first non-pro-hormone supplement that gave athletes and body builders phenomenal gains in muscle & strength without any side effects and in record time. Norateen Heavyweight II has been hailed by users and the media as the strongest muscle builder on the planet.

Norateen Heavyweight II has been discussed extensively on TV (BBC, SKY) and voted number 1 by Men's Health Magazine. This amazing supplement WILL increase your strength in as little as 1 hour after first use and most users see a total change in their body within a few weeks of use (some sooner).

Norateen Heavyweight II uses natural herbs and growth agents to kick start your body into a whole new growth phase that you would otherwise not reach – and this is the crucial point: Until you try it, you won't realise just what you have been missing out on. The gains are fast, free of side effects, all natural and really noticeable – not borderline.

LA Muscle's Super Size Limited Speail Offer gives you 1 month of Norateen Heavyweight II and 1 month+ of LA Whey 2.2kg for an incredible price with FREE UK Delivery. This is a limited special offer so don't miss out.

Click to order the Super Size Deal HERE.