In the summer of 2012 I took a performance contract at a nightclub in Singapore.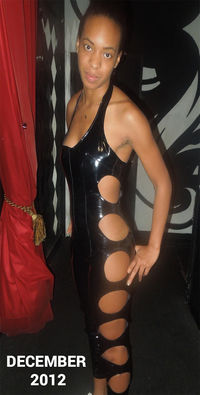 For 6 months I was performing 5 nights a week 4 hours a night. These performances required ultimate high energy, strong singing and skilled choreography.
It was crucial to train up in order to have the stamina to sustain the energetic nightly performances without becoming short of breath. Putting on a great show was fun yet pressure.
Building up the stamina gradually got easier but 5 months in I noticed photo after photo, month after month the weight was dropping and at 5'9 inches tall I was previously at a size 8 and 9.5 stone.
It was now December 2012, I was a size 6 and had dropped roughly about 8 pounds. For all the physical labour I had been doing I was neglecting my body from supplements, healthy fats and just enough food in general. I didn't make time to eat the correct foods and began to feel weaker and weaker, my face looked drawn and gaunt; as a result of this self-neglect I fainted during a performance in front of a huge crowd of party goers and suffered insomnia for weeks. There was a few times when I really thought I was dying.
The doctors prescribed me with muscle relaxers to take 3 times a day. This made things worse and in turn I lost more weight, had zero energy and nausea.
That week I travelled back to the UK where family and friends saw a drastic change in not only my appearance but in my personality. There was a complete lack of enthusiasm and motivation.
A friend had told me to take a look at the LA Muscle website and in particular LA Whey protein. She suggested I should start working out and taking LA Whey to supplement my diet. I did and it worked! I now have so much energy throughout the day, and the motivation to go with it. I weigh a healthy 10 stone which is great for my height and maintain a toned/curvy size 8 figure.
Sometimes we get trapped in a routine or we forget to exercise and eat well. Don't let it affect your health before you do something about it. Supplementing with protein is a good idea if you find it hard to keep to your diet. Life is good now. I am working full time, training and am considering competing as a fitness model. Have even done a few fitness shoots!
Brooke Bailey, Dance, Model