The Knowledge > News & Gossip >
Monday, 12th January 2015
Newly developed high value muscle generator
By LA Muscle on 12.01.2015 08:26 am
This is Zoran. He is part of the LA Muscle Sponsorship Team at the London HQ. He has a muscular, well proportioned body and judging by the reaction of the ladies, he is easy on the eyes too!!! Over the years Zoran has taken a variety of supplements. Recently, he was one of the test subjects for LA Muscle's new action-packed muscle builder Complete.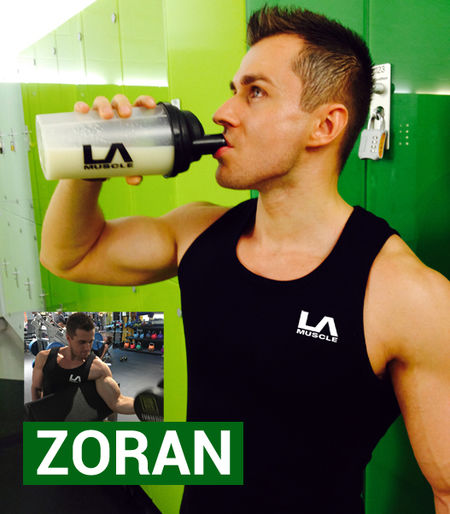 The original Complete (spelt with a "K") was banned, as it was considered to have too many Testo-Boosters to be a protein. It was really strong! The banning didn't stop customers searching for it, requesting it and for LA Muscle to work on re-developing it.

It's 2015 and LA Muscle has developed a replacement worthy of the name: The all new Complete muscle building shake. Zoran has been taking it for just over 2 weeks and he has put on 4 kgs of lean muscle - and that is a great amount, considering he is a seasoned trainer and not a beginner.

Complete is similar to the old "Komplete" in strength. However, the twist with Complete is that it is the first supplement to come out of LA Muscle's new high tech European manufacturing plant and one that has had its flavour developed by one of the top food technology companies in the world.
The new Complete not only packs a big punch, it also tastes just like a delicious milkshake (chocolate or strawberry).

Complete 1.8kg is great if you are on a budget or if you want high value all in one tub. In Complete you get:
LA Whey No need to buy extra protein!
LA Creatine Muscle, energy & strength.
LA Glutamine No.1 recovery & muscle amino acid.
Sculpt Lean muscles and fat loss.
Taurine & Dextrose to ensure maximum delivery.
Leucine for even more muscles.
Inulin for a healthy digestive system.

Easy mixing, delicious, powerful and great value for money. As with all LA Muscle supplements, you don't have to use as much as the cheaper brands so you end up actually saving! Don't go for cheap as it is a false economy and you don't want to mess around with your body and health.

LA Muscle wants you to try the all new Complete and start building serious muscles in January 2015.