The Knowledge > Recipes >
Wednesday, 11th March 2015
Grilled Greek Chicken
Packed full of protein and grilled to perfection
By LA Muscle on 11.03.2015 11:56 am
Ingredients: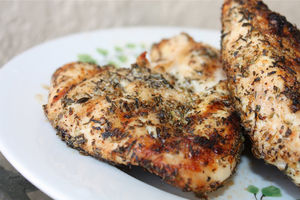 4 Boneless Skinless Chicken Breasts
Olives
4 Large Tomatoes, Diced
Feta Cheese, Crumbled
Marinade:
1/2 Cup Olive Oil
3 Cloves Garlic, Chopped
1 Tablespoon Chopped Fresh Rosemary
1 Tablespoon Chopped Fresh Thyme
1 Tablespoon Chopped Fresh Oregano
2 Lemons, Juiced
Directions:
In a bowl, mix the olive oil, garlic, rosemary, thyme, oregano and lemon juice.
Cut up chicken pieces into strips.
Place the chicken pieces, olives and diced tomato in the mixture, cover and marinate in the refrigerator 8 hours or overnight.
Preheat grill for high heat.
Place chicken mixture in aluminium foil, create pocket, add some of the marinade to keep moist and cook for approximately 30 minutes.
Sprinkle with feta cheese.