The Knowledge > Recipes >
Wednesday, 8th August 2012
Tuna & Boiled Egg Salad
High Protein Tuna & Boiled Egg Salad
By LA Muscle on 08.08.2012 03:40 pm
Ingredients: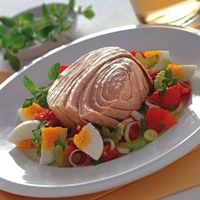 • 100g fine green beans
• 2 large tomatoes, sliced
• Fresh chives, snipped
• 2 large eggs
• 200g fresh tuna
• 25g capers
• 50g black olives
• Vinaigrette salad dressing
Method:
1. Cook the beans, then drain and cool.
2. Place the eggs in a small pan of boiling water and bring slowly to the boil. Cook for 3 mins, drain, rinse under cold water and remove shell.
3. In the meantime, griddle the fresh tuna steaks.
4. To serve, place the tuna on a bed of sliced tomato and green beans.
5. Sprinkle over the capers, black olives and the chives. Spoon over the vinaigrette dressing then top the tuna with the lightly poached egg.