The Knowledge > Recipes >
Thursday, 14th June 2012
Stuffed Peppers
Tuna & Avocado stuffed peppers
By LA Muscle on 14.06.2012 09:12 am
Ingredients: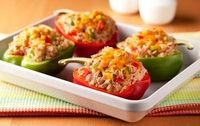 1 bell pepper (any colour)
1 can tuna
1/2 avocado (ripe)
1/2 cup onion (chopped)
1/2 cup salsa
Method:
In a small mixing bowl, mix ripe avocado, Add tuna, onion and salsa, stir together with avocado.
Wash and cut bell pepper (in half), remove the seeds. Spoon tuna mixture into each pepper half and consume like a sandwich.
Nutrition:
Calories: 370 kcal
Protein: 39g
Carbohydrates: 22g