The Knowledge > Recipes >
Friday, 20th April 2012
Steak and potato's
Steak and Potato's. Great for a post workout meal, Packed with protein!
Ingredients: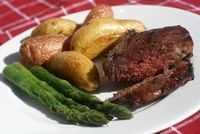 2 whole potatoes
113g of corn
4 ounces of top sirloin lean steak
Dash of salt and pepper
5g. of margarine- light
3ml. extra virgin olive oil
80g of mushrooms
Directions:
Pre heat oven to 350 degrees Fahrenheit.
Place potatoes on two separate pieces of foil. Cut potatoes lengthwise but do not cut through.
Add 2.5g of butter to each potato and add a dash of salt and pepper.
Fold the potatoes in the foil wrap.
Set timer for 40 minutes. Place potatoes in the oven.
Cook potatoes until the timer is complete or until the potatoes are soft all the way through.
Meanwhile, wash and clean steak and mushrooms.
Heat oil in a medium sized frying pan.
Place steak in the pan and pan fry for 5-10 minutes each side.
Meanwhile, heat a non-stick skillet and sauté mushrooms. Once mushrooms are soft, set aside.
Once potatoes are done, take out and set aside for 3-5 minutes. Take steak out of frying pan and top with mushrooms.
Serve with potatoes.
Nutrition Value: Per serving
Calories: 600 Kcal
Protein: 48 grams
Carbs: 36g