Ricky Martin
PPW Welsh Tag Team & Heavyweight Champion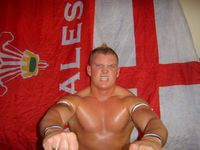 Ricky won the ever "Best in Wales" tournament and is still the trophy holder:
Curent PPW Welsh Tag Team Champion
Current PPW Welsh Heavyweight Champion
Accepted to go to Canada to train with the legendary Lance Storm
Since starting wrestling a year ago Ricky has been asked to work for 12 companies all over Britain, including wrestling for LDN in London who have a Sky TV contract.
Ricky's main goal is to get into a major world known company in America- WWE. He would also like to travel around Europe and potentially Japan to learn a bit of every possible style in order to give his wrestling the edge over others. His short term goals are to make a name of himself within the British wrestling industry and to work for most of the top promotions. Wrestling on Sky tv has given him the platform to show off his skills which should enable these goals to become reality.