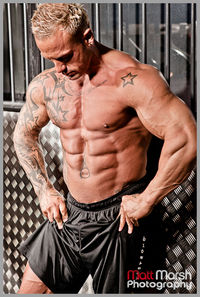 How did you get started?
"I have been a certified personal trainer since college. And went onto working in gym environments for the best part of 8 years. I now own my own gym in Waltham Abbey, Essex, UK called KRUNCH GYM. (www.krunchgym.co.uk). A funky and fresh training facility, latest tunes spun nightly be resident DJ. The gym boasts an extensive cardio theatre and variety of classes from pole dance to spinning. Along with the best in free weights and Hammer Strength equipment with dumbells ranging upto 185lb."
"I have been competing for many years at bodybuilding at various levels both at home and abroad. Competing in the UK, USA and Australia. Multiple bodybuilding titles including Mr Titan 2006/2007, NAC British Champion 2008 and currently winner of WPF Mr Universe 2009 & NAC World Champion 2010. Since winning these titles I currently compete as a Pro Bodybuilder through Europe several times a year!"
What Supplements you use?
I use
LA Whey
and
Norateen Heavyweight II
by LA Muscle daily along with
Sculpt
CLA daily. Pre weights and Pre cardio, 10g Glutamate, 3g Creatine such as
Explosive Creatine
, 5g Arginine, 6g of a good BCAA like
311 BCAA
s.
What does your current work-out routine look like?
Wake up, 6:30am, do Cardio for around 45-60min, then train weights in the mid-morning for 60-90min. If I am competing I will do another Cardio session after the weights & before bed!
As I train each muscle group specifically I make sure the muscle gets a full on workout to exhaustion!
What are your max lifts?
Bench 160 k , deadlifit & 260k all exercises always done for reps of 4 or more
What's your opinion on the run of the mill "Bulk & cut" way of training?
I dont believe in this and don't advise any people on this, I always get my clients bodyfat to 12-15%max before I look at bulking them. A leaner body has a faster metabolism and can more readily utililise the extra nutrients when eating more in order to gain lean mass. a fatter body is a slower metabolism.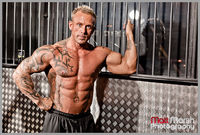 What music do you listen to when your training?
Anything from RATM to hip hop such as B.I.G or uplifting house... depends on the bodypart or cv session.
How do you stay motivated?
I am a firm believer in the mind being the most powerfull muscle. I suffered a serious motorbike accident some 5 years ago that paralysed me from the kneck down for 48 hours. That's alot of time to contemplate life! From that the surgeons told me I would never write again or use my arms for lifting weights due to how shattered they were. Several plates & pins later and a rigerous Physio routine recovered my movement and my positive mental attitude made my comeback to compete and win the Mr Titan in 2006 my most rewarding competition to date!
Further to this, just 8 months ago I broke my back, slipped 2 discs and had siatic nerve damage 24hours a day after some off season strong man training that I pushed too far.
Again, the set back made any lifting impossible, but again with a positive mental attitude and dedicated approach to Physio and rehab- I have succesfully reduced the inflammation, reheal my fracture and have been able to push on, train and compete 5 times this year!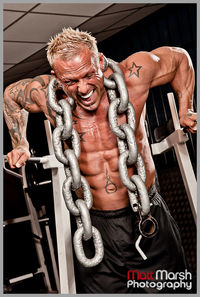 "if you truly believe, you will succeed!"
Free Weights vs Machines, what are the pro's and cons and which do you prefer?
I have written a topic on this I will find and publish here soon.
Who is your favourite bodybuilder, strongman or powerlifter?
Fav bodybuilder is this year Mr O Phil Heath, Cartoon character like muscle bellies with a small non distended waist and the most amazing blue eyes! hey not all bodybuilders have to be ugly...
Strongman wise the people's favourite and another bodybuilder, Mariusz Pudzianowski

If you could give someone one piece of advice, what would it be?
There is no magic bullet, quick fix or secrets in becoming a good bodybuilder. Its commitment 24 hours a day, but u must have balance in your life in order to improve and experience the best of what life offers. If you have the desire get a consultation with one of the sports best early on in your career, dont waste time not learning from the best!
You can catch my shows exclusively on The Active Channel every week. We are filming more this year and I will be having some amazing special guests on so make sure you tune in to The Active Channel on SKY 449 and
www.theactivechannel.com