By Scott "Future" Felstead
Mickie James is known to pro-wrestling fans as one of the toughest ladies on the circuit. Sexy and tough, this girl wows millions of TV fans every week. Mickie has won every major grappling belt including the WWE Women's Title, the WWE Diva's Championship, and the TNA Knockout's Gold. She is the only woman ever to do this.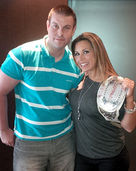 When LA Muscle's Scott "Future" Felstead caught up with her at an exclusive album launch in a secret London location (Mickie is also a country music singer!), she shared 8 amazing training tips that keeps Mickie in championship shape:
1) Mickie favours 'cheat moments' instead of 'cheat days'. She finds that allowing herself the odd treat on an otherwise healthy day is better than loading up on sugary or high calorie foods for a whole day.
2) This diva of the squared circle hits the gym 4 days a week.
3) Mickie is a heavy lifter and prefers high reps and low sets.
4) Wrestlers find preparing food difficult because they are always travelling, so Mickie makes sure to order wisely off the menu and will ask for food to be grilled instead of fried or make healthy substitutions whenever she can.
5) Mickie takes care of her mind as well as her body and enjoys taking the dogs for a run in the park. She enjoys Yoga too.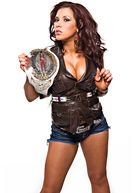 6) Mickie drinks green tea and loves to make her own smoothies, including an amazing peanut butter smoothie with flax seed!
7) Separated shoulders, busted noses, and strained necks are common injuries that Mickie frequently picks up in the ring. She understands that she should not over-train or she will threaten her ability to recover quickly.
8) Mickie tries to avoid 'fad' diets and training gimmicks and favours the traditional methods of hard work and perseverance to achieve her goals.
As the reigning TNA knockout champion, Mickie is a great role model and is certainly living proof that her methods work. Long may you fill all our TV screens Mickie James!
(Impact Wrestling airs on Challenge TV every Sunday. Her album 'Somebody's Gonna Pay' is out now).