What was the full title of the fight?
It was before a title fight. I need two more fights and then I can fight for the British title.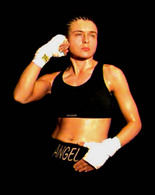 Where was the fight held?
Dagenham Leisure Centre, under Derek Williams World Production.

What date was the fight on?
26/02/2005

Who did you fight against?
Elena Kokavcova from Slovenia.

How long was the fight?
Four 2-minute rounds. I won each round on points so it was 40-36.

How did you feel when you won?
Very uplifted, satisfied and not tired - and I don't remember a thing. Usually it takes one day for the tiredness to come and take you, together with the memories.

How do you feel when you are in the ring?
I feel like an actor who needs to give a good, interesting, remarkable and memorable show. Boxing is entertainment, and a dangerous one. No one likes boring movies so I want to make my movie interesting: I'm the actor, director and screen writer.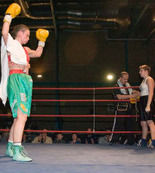 What's the atmosphere like behind stage or around the ring?
People wish for blood; they can't wait to see the knockout. People like drama and to be part of it. The atmosphere is a bit like in a bull fight. I'm the matador and I'm the bull.

What did you enjoy most about the fighting?
I like to meet new boxers. Each fighter has a different style, no one looks like another. I like that: each time you get a different experience and I never stop learning. That's what makes boxing interesting for me as well.

Where and when will you be fighting next?
I'm not sure.

What are your future plans?
A couple more fights and I then I can start challenging for the world title.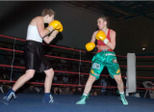 And your future goals?
I'm still working on my body, like a sculptor. I want to build it up to Miss Universe. Boxing fitness builds the body very well and naturally. Your body is the most beautiful and amazing thing on the Earth. I'm working as a trainer helping people to achieve a better level of human existence. I use my experience and knowledge and as well I'm getting a lot from people. Each body is different and requires a different way of building. There's no one solution.

At what point in your life did you decide to take up boxing?
I used to do bmx-ing but unfortunately (or as I may say now, fortunately) I tore my ligaments apart. I had five operations to replace them but none was a hundred percent successful. So I couldn't move well. I put on weight and started to sink into depression. But something inside of me wasn't ready to die. I was still quite young and wished to achieve something in life. So slowly I started to go to a weightlifting gym just for 30-40 minutes; this soon increased into 2 hours' hard training.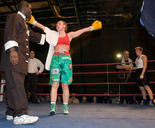 In the gym I've met some guys who were doing boxing as a part of their fitness programme. So I tried it too. It was a good therapy for my legs, which started to move faster and began to bend: before they were straight as logs. I started to do more sparring sessions with strangers of different weights. At that time I knew very little about boxing - no rules, no skills - but I felt something special inside. The love of boxing was growing day by day and turned into a passion.

I started to be more serious about boxing and joined a professional and amateur boxing gym. I was lucky that my first trainer happened to be Clinton McKenzie, British & European champion - a man of unusual power and strength. He introduced me to serious training and he found a great belief in me as a boxer. He gave me my new life - a new world.

Who has inspired you to get into a male-dominated field?
My trainer and adoptive father, Clinton McKenzie.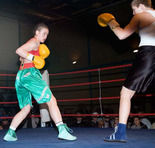 What sort of training do you do, and how often?
Running 30 minutes, 3 times per week
Long-distance run, 1 hour, once a week
Boxing training: shadow boxing, pads, bags, step machine, abdominal - altogether 2 hours, 5 times per week
Swimming, 30 minutes, once a week
Massage (oh I love it!), 40 minutes, once a week
Light weights, twice a week
Yoga and stretching, 30-40 minutes, 3 times per day: morning daytime, evening
Cycling around London, 2 hours, once a week
+ I'm training people all day long, every day
You might ask: how often do you rest? My answer is almost never. I know it's not good. I'm trying to rest on Sunday afternoon: that's the only time I've got to myself. I'm trying to find some small holes during the day where I can rest 30-40 minutes and I always have 1 hour catnap in the middle of the day.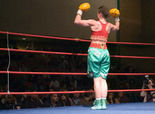 How long have you been fighting for?
I used to do boxing and karate when I was young but it was just for fun. The serious step I took three years ago, and the real dedication started. I joined an amateur club but couldn't get fights regularly. Then I applied for a professional licence which wasn't given easily from the beginning but one year after I had it - and still couldn't get a fight. I didn't have the right promoter but I do now. So almost for two years I was just training: no real fights, just a lot of sparring with billions of different people but that stood me in good stead, as I see now.

Since you've been injured, how do you think you have improved?
Who has helped you to achieve your win?
My trainer Clinton and a lot of energy comes from my friends who support me. I feel a sense of responsibility. I need to do well.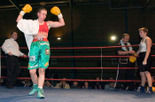 What supplements do you take and how often?
I'm still experimenting with supplements a lot, and changing from time to time. The first company I started to buy supplements from was LA Muscle. I saw an advert in the same magazine with good-looking bodies. I take LA Whey, Fat Stripper and Sculpt. Not all together - it depends what programme I'm on. All the time I put on weight and the burn the fat. I'm taking supplements regularly as it says on a label of a supplement. Vitamins and amino pills every day. And good quality food I consider as the main important supplement. I'm very strict about what I eat.

Which area of London do you live in?
Herne Hill and Brixton, Norwood, Dulwich. South London.

What newspapers or magazines have contacted you?
South London Press. London - the newspaper for Russian people living in UK (originally I'm Russian). Personal Trainer for women - a magazine. Womensportsreport.
Many thanks Angel and we wish you the best of luck in your future fights.