Ex Australian 125 & 250 GP contender Richard Kemp teams up to win 600 class British Endurance Championship.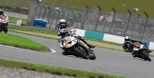 Kemp along with team mates Ciaran McCann (owner of Comms4Less.co.uk) and Doug Cannon sealed the 2005 UK Class B (600cc) Endurance Championship at Donington Park over the weekend of October 1st, on board the 2005 Kawasaki ZX6RR prepared by Phil Seton of Seton Tuning/Shark Kawasaki.
McCann, 37 from Bishops Stortford said: "The Kawasaki ZX6RR is the bike to have. It has been consistently reliable and prepared meticulously by Phil Seton for each round of the championship. With the addition of a quick fuel dump system from Advance Fuel Systems of Newport Essex and a small expansion to the standard fuel tank by Tim Jones to increase track time, the bike has performed at peak for the whole season.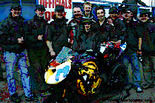 Suspension from specialist Darren Wnukoski at MCTechnics of and Penske have proven to manage the differing weights and riding styles of the riders to ensure that handling, grip and tyre wear on the Metzeller Racetecs were not compromised during the long races. With financial assistance from Buff, Fiberlink.com and Bill Wagner for brakes and oil, we managed to have the complete balance, a very keen and organised team of pit crew led by Darren Cogdell, competitive machinery from Kawasaki and a consistent style that didn't put finishing the races at risk."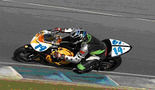 The team experienced a minor set-back at the Brands Hatch round, where a racing incident put a guest rider (Paul Seward - 2004 MRO SS600 Champion) in hospital and completely wrote off the bike meaning a DNS. With the persistence of Phil Seton and the Kawasaki Racing department, another machine was located and Seton was able to get it prepared in time for the Snetterton 8hr race (reduced from 24hrs) which the team convincingly won with a 10 lap lead over the next 600cc bike.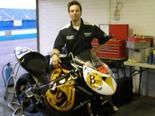 The main team riders, Ciaran McCann and Doug Cannon, were greatly assisted during the series by guest riders Tim Jones (Round 1), Phil Seton (Round 3) and Richard Kemp (Rounds 4 & 5, riding to fastest laps in both victories), who all added enthusiasm, pace and commitment.
The Comms4Less.co.uk team had three class wins and achieved a second place in the four races that the team started from the five race series.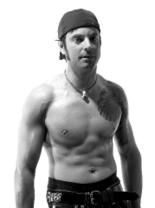 Richard would like to thank the generosity of Kawasaki, Ciaran McCann / Comms4Less.co.uk and Phil Seton for an awesome machine, LA Muscle for their great supplements