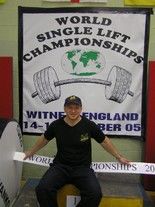 Our own Mike Joseph won the World Single Lift Championships 2005 and broke the world record set some 10 years ago!
Here's an account of Mike's amazing Record-Breaking day in his own words:
"The day went awesome for me, I started off pessimistic about the day due to a shoulder injury flaring up during ther last few weeks training and being really painful on the day. I bumped into the guy who took my title in my abscence last year, an Irish fella called Maurice Roche, who I thought might give me a bit of a scare if im off form, so I picked a sensible opening weight (180kg), it was a large field in my weight class (about 20 lifters) and the next nearest opener to me was maurice with 165 kg. He got his opener and I got mine after a bit of a scare as I held the weight, my left shoulder started to give a bit, however I steadied myself and completed the lift.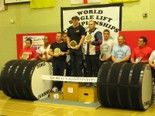 2nd attempt, maurice got 170kg and Imanaged an easy 187.5kg, so I knew that I had realistically won my class and on my 3rd lift I opted to go for a new European Record (currently held by me) and succesfully lifted it (192.5Kg), maurice got 175kg with his final attempt.
As I had 3 clean lifts, I am allowed to have a 4th attempt , which although it doesnt count towards my competition lifts, is allowed if I am trying to beat a record.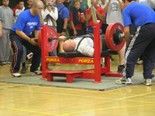 The existing world record in the single lift bench press events, has stood for the past 10 years and is held by an american named Clinton Smith, it has always been my goal to take this at some time. So with just a few minutes break between my last lift and this, I attempted to bench 198kg (or 436 pounds!!!) , I got a great physce and really good focus and comfortably completed the lift and become new world record holder in this event, my bodyweight was 81kg so I still have a spare 1.5kg bodyweight to call in the future, before hitting the top of my weight limit (82.5kg class).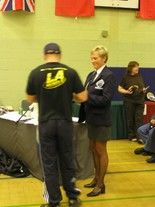 In the afternoon I competed again, this time in the equipped division (lifitng aids allowed etc) but as you know, I always choose to lift in this class without the use of any additional attire.
Once again maurice lifted and managed 180kg with the aid of his equipment, I managed 187.5kg, followed by 195kg (New European record) and finally attempted 200 kg but it was one lift to many and I didnt manage it, next time maybe.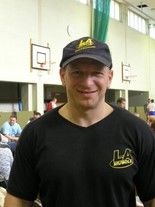 I took Cobra throughout the day and it really kept me going."