Name: Darren Borg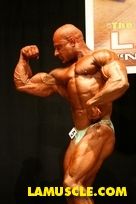 Age: 22

Nationality: Maltese

Sport: Bodybuilding
How many years have you been training?

I started getting interested in working out for size and strength when I was almost 15 and continued training ever since.
When was the first competiton?

2006 was the first contest I took part in. It was the Mr. Malta. From then onwards I kept on competing and entered the NABBA Worlds and Universe in 2007.
What inspired you to take up bodybuilding?

As a youngster, I used to watch films by Arnold Schwarzenneger and other film stars that were very strong and had big physiques. I always admired them and I always liked the muscular physique so it came natural for meto eventually take up bodybuilding.
Have you won any competitons?

First contest I won was the Mr.Malta in 2006 in my weight section. I then went on to win the NABBA Worlds and NABBA Universe in 2007 in the Juniors section.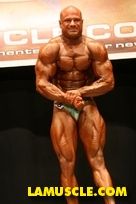 How do you split your trianing??

I train one body part per day starting with chest, then back, then quads and calves, shoulders,arms and hams and isolation quads.
Tell us a bit about your diet off season and pre contest?

I try to stay clean as much as possible to avoid unneccesary accumulation of fat. I have high carbs and high protein off-season and when I start my pre contest diet I lower my carb intake every week, leaving protein intake high not to risk muscle loss. I do cheat when I am in off season, but stay as strict as possible when I am on my diet.
What is your favourite cheat food?

Hmmmm…so lasagna, pizza, Burgers, ice-cream is one of my faves, and also chocolate!!!
What is your favourite body part to train?

It has to be my arms
What is your least favourite body part to train?

I don't have a least body part that I like to train. I try and work harder in order to get any lagging body parts au-pair with the rest of the body and always aim into having my body as symmetrical as possible.
What are your immediate and future plans?

My immediate plans are, first of all to place well in this years Mr. Malta since all the best bodybuilders are entering the contest this year, and then, to do well in the class section in the NABBA Worlds and NABBA Universe as I will be competing for the first time with the open classes since I am not a junior anymore. Eventually, in the future I will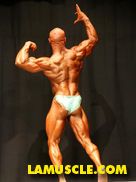 aim to get my Pro Card.
How do you feel as an LA muscle sponsored athlete?

I feel very honoured to be associated with this very popular and established team. LA muscle is renowned all over the world; the team is very helpful and professional. I feel that with LA Muscle I can achieve more as an athelete.
What are your favourite supplements?

LA Whey 2.2KG and Norateen Heavyweight II are some of my favourites.
What do you think about cardio as a bodybuilder?

Personally, I find cardio very effective in keeping my condition, as all through the year I do 20mins cardio after my weight session. As the contest nears I raise it up to 30 mins a day.
What would you be doing if not bodybuilding?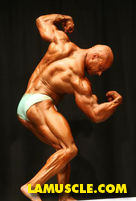 I would probably be training to become a boxer…still in sport!!! :)

Any past and/or present bodybuilders that you look up to?

Shawn Ray is one of my all time favourite bodybuilders. His physique is very symmetrical and even people that maybe are not that much into bodybuilding, you still find them saying what an amazing physique Shawn Ray has. His posing routines were also exceptional. Kevin Levrone had a massive physique as well as symmetry and definition. A present bodybuilder which I think is impressive is Phil Heath, having a massive physique, with a small waist and a great X frame.
Do you find any support from family and friends?

I don't really find that much suport from my family, but I find a lot of support from my friends. It is very important to have good support especially when one is preparing for a contest; it is important to have all the support, especially psychologically.