By Gilbert Alaskadi, EFBB British Body Building Champion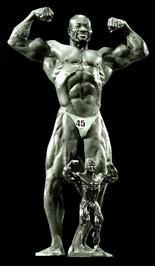 I would like to share with you my off season diet and training routine since my last competition October last year.
I weight 112kg on July 10th 2004 before starting my diet and weight 92kg on October 10th 2004. That's 20kg lost in three month with 45mn twice a day, six days a week cardio vascular on the stepper and the diet. The result was satisfying but I believe I sacrificed a lot of muscle at the same time.
So this off-season, I try to stay as lean as possible as I can with minimum solid food (just don't feel very hungry) and some amazing supplements from LA Muscle. This is the first time in 15 years of training that I took four weeks off the gym completely but guys, what a struggle to get back into it. Thanks to LA Muscles' Body-Kit System that puts me right back on track.
I've never felt like this off-season ever. I followed up with Norateen heavyweight ll and Bio activator but LA Whey is my main supplement as I'm trying to get as much as 350-400g of protein a day as possible as I can without stuffing myself too much. Here is my off season diet up to date:
06:30: Meal1: 12 egg whites +3 whole with 50g oat cooked in water+1 banana
09:00-10:30 = TRAINING
11:00: Meal 2: 4 scoops LA Whey in water
12:30: Meal 3: 4 scoops LA Whey in water + 1 banana
16:30: Meal 4: 400g steak + 200g sweet potato
19:00: Meal 5: 4 scoops LA Whey in water with 100g fruits'n fibre cereals
22:30: Meal 6: 400g chicken with salads or 4 scoops LA Whey in water + 2 oranges.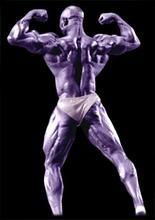 I train 4 days a week some times 5
Monday = Back & chest
Tuesday = Legs & abs
Wednesday = off
Thursday = Shoulders & arms
Friday = Back & chest (only 2 exercises each with drop sets)
Saturday & Sunday = off
The diet will change on April 1st to get ready for the European championship in Holland June 10th.
My bodyweight actually is 115kg so I'll keep you posted as things changes. But I wouldn't go without sharing some advice to all LA Muscle.com's readers: Bodybuilding, weight training and aerobic: In my opinion I'll say lets keep the word bodybuilding for competitive trainers; weight training is best described or the best word for people who wants to look and feel good.
I'll explain: I believe every body wants to look big, muscular and strong. People don't realise the hard work, discipline, sacrifice, and dedication behind that muscular strong body. So let's help them get into weight training with sensible diet and they will get that body they're dreaming of. Our body need to be trained, it begged to be trained. Check this out yourself, look at people whom never workout or do any other sports activities in their life, they may be healthy but not that fit for any hard work.
How many people GPs advice them to take up weight training to stay healthy due to high blood pressure, asthma, heart problem, diabetes, alcohol, smoking and so many other disabilities. Let's not forget crime: Bring those young guys to the gym and see how much crime you'll cut down, as those guys will be busy training to get that beautiful, strong body they want as they'll soon realise the discipline, drive, dedication, desire and determination they need to obtain that body, and that will automatically change their life. We'll get every one into weight training and the sport of bodybuilding will have at least a quarter of supporters as football.
As mentioned in the article education of an African bodybuilder a bush man who couldn't afford protein supplements back home then, but in my surprise I came across people I'm training and advise in the gym that thought protein powders, Creatines and others supplements are illegal until I convince them how much they're missing out the goodies apart from natural organic food as the food we are eating those days are not pure as natural organics.
Some people ask me: can I drink protein every day? And my answer is a question lie this: Can't you eat chicken, meat or fish every day? Then they got the answer. They come back to me only a week or two late with unbelievable result. What an achievement. So I believe we can all do better