Tuesday, 11th December 2012
New study proves stronger males live longer
How weight training can literally change your life!
A recent Swedish study published on bmj.com of one million young men aged between 16-19 over a period of 24 years, found that those with low muscle strength as adolescents die younger.

Higher muscular strength was associated with a 20-35% lower risk of death from any cause. Stronger adults had a 20-35% lower risk of death from suicide and up to 65% less likely to have a psychiatric problem. That's just crazy! (No pun intended :) The authors conclude that physically weaker individuals may be more susceptible to mental problems.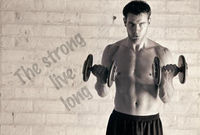 Male adolescents with the lowest muscle strength showed the highest all-cause mortality especially in cardiovascular disease and suicides.

The authors conclude that "People at increased risk of long term mortality, because of lower muscular strength, should be encouraged to engage in exercise programmes and other forms of physical activity."


So what does this mean for you or your loved ones? It means one thing: go to the gym from a young age! This is a very important study of a huge number of adolescents and the results seem pretty conclusive.

Stronger people ARE more confident and ARE usually fitter than the average person. Starting weight training at an early age, say after 14 years, can ensure longevity and a healthier life. You don't have to be a bodybuilder, you just have to start nice and slow, increasing the weights as you go along and making sure you eat well, rest, drink water and take in protein.

As your body adopts to the weight training regime and the stimulation of heavy weights, it starts to build more muscle tissue, giving you more strength. With regular exercise comes higher confidence, more body strength and a healthy aura and general vitality (life!).

There has never been a better excuse to start weight training. It's never too early and never too late. Remember that!