One thing that stands out every time I scroll through my Facebook or Instagram feed is just how many pictures people post of their boring old prep food. I see row after row of Tupperware containing anaemic looking chicken breasts, broccoli and a bit of sweet potato if you're lucky.
Now I'm guilty of posting my fair share of food snaps but only if it's tasty looking food, a recipe or something a little bit different from the normal "fitness competitor/bodybuilder" bland diet. Don't get me wrong, if you enjoy eating like that, then hats off to you for being able to keep chomping away. I've even had one person say to me that they enjoy the suffering of the bland food as part of their competition prep!
Many people seem to think that this type of diet is the only way to get the body they aspire to for a show or a competition or even just a beach holiday. It isn't. It might surprise you to know that I was eating pretty much my normal diet right up until 2 weeks before my competitions (other than sacrificing some carbs along the way), including curries, casseroles and chilli.
Here is one of my favourite, delicious recipes that can even be enjoyed on a low carb, depletion kind of day (shouldn't be too hard to fit it into your macros). Serve it with some rice and you have the perfect, post weights refuelling meal or just a tasty dinner for any day of the week.
Beef Keema Curry
Serves 4
Per Serving: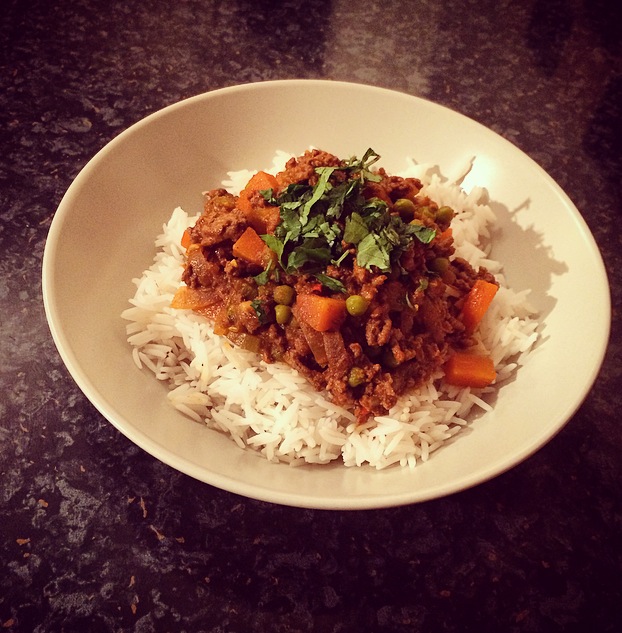 Calories: 349
Protein: 31g
Fats: 16g
Carbs: 20g
Ingredients:
500g lean steak mince
1.5 carrots, diced
1 large onion, diced
1.5 stalks of celery, finely sliced
1 red chilli, finely chopped (leave the seeds in if you want it extra spicy)
1 heaped tbsp of fresh grated ginger
2 tbsp cumin seeds
2 tbsp ground coriander
1 tbsp garam masala
1 tbsp turmeric
150g frozen peas/petit pois
4-5 level tbsp tomato purée
450ml hot beef stock
Large handful fresh, chopped coriander
Method:
1. Brush a non stick large saucepan with a small amount of coconut oil or ghee
2. Add the onions, celery, carrots, garlic,
chilli and ginger and cook for approx 5 mins on a medium heat until they begin to soften, stirring occasionally
3. Add the mince, along with all the spices and stir until the mince has browned
4. Add the tomato purée and stir through
5. Pour in the stock and peas, bring to the boil and put a lid on and turn down or a simmer
6. Cook for about 30-40 mins, stirring occasionally so that the meat does not stick
7. Take off the heat and stir through the coriander
8. Serve and enjoy