The Lounge > Recipes >
Banana Split Protein packed Oatmeal
Banana Split Protein packed Oatmeal!
Ingredients: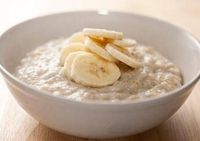 1/2 cup oats
1 small container strawberry yogurt
1 scoop vanilla LA whey protein powder
1 banana
Cinnamon (optional)
Method:
Cook your oatmeal according to the directions on the packet.
Scoop the contents of your small yogurt into a bowel and mix in 1 Scoop of LA Whey Protein powder.
Add your yogurt mixture into the bowl containing your cooked oatmeal.
Take your banana and slice it in half and place on top of your oatmeal.
To taste sprinkle come cinnamon over your bananas and serve.
Nutrition:
Calories: 441 kcal
Protein: 39g
Carbs: 32g