The Knowledge > News & Gossip >
Tuesday, 28th November 2006
Dan Jumaa wins NABBA British Finals
By LA Muscle on 28.11.2006 09:00 am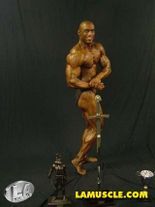 Our very own sponsored bodybuilder Dan Jumaa has just won the NABBA British Finals held in Manchester last weekend. He placed 1st in Class 1 and Overall. He also qualified for the Mr Universe competiton which will be held in Gemany this weekend.
In the run up to the competition Dan has been using LA Whey 2.2.
Well done Dan, big congratualtions and good luck in Germany...