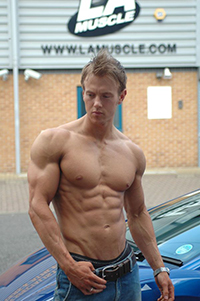 LA Muscle's post bag has always been full of requests for sponsorship. Well, I say post-bag but in reality these days the requests come from emails and social media.
Sometimes I would get so many requests that it would take hours of my time going through the various people all wanting to be sponsored by LA Muscle. They were all sorts: people who had achieved nothing and just had a nice body with no ambition, to world-class athletes and some others who had just started on their journey.
I'm going back some 15+ years here to one day when I opened one of the sponsorship request letters. It was from a young man from Farnborough, UK who had seen one of our other sponsored athletes and wanted to be like him! The athlete was Paul Amos, AKA the "ab man"! The young man in question wanted to be the next Ab Man!
Now, usually I would ignore these requests as there were so many and you could sort of see the potential from the writers and their photos. In this instance, the young man, whose name was Rob, had sent some interesting photos of his physique development. Furthermore, his style of writing and his sheer determination really caught my eye.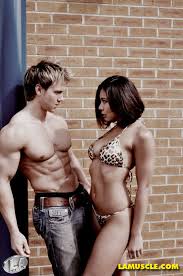 His name was Rob Riches. I decided to take a chance on him and LA Muscle started sponsoring him and working with him. He was one of hundreds of bodybuilders sponsored by LA Muscle but he was always one of the shining stars. I became good friends with him and started to go to shows with him and we even hung out when I had time.
Rob went on to win several local natural bodybuilding competitions. He was extremely strong in the gym and meticulous with his diet. He used several LA Muscle supplements over the years as he fine-tuned his physique, including Norateen Heavyweight II, Norateen Extreme, Fat Stripper Intense, Sculpt and so on. There are many testimonials out there as to the difference they made to his physique and strength whilst he climbed up the ladder of fitness success. This is one thing that so-called "haters" don't get (to their own detriment) and that is, most top athletes DO use supplements. I can name so many top names that when it comes to the crunch, always come to LA Muscle because they don't want to leave anything to chance. Anyway, that's for another story…
Rob was always very ambitious and set his sights on moving to America. LA Muscle continued to support him whilst he was in the USA and I personally vouched for him to help him get his visa and become a resident there. He made some great quality content for LA Muscle TV in the USA and was a regular in many aspects of LA Muscle's outward media.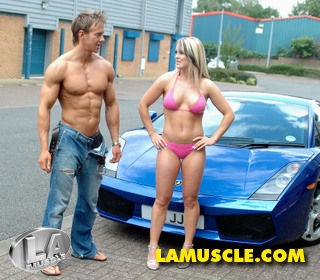 One day Rob and I were speaking and he said he wanted his photo on the front of one of LA Muscle's products!!! My initial instinct was "no way" so I decided to set an impossible challenge for him, thinking that would be the end of that! I told him that if he won 3 world championships, I would put his photo on one of our product labels.
Next thing, what does he go and do? He went on and won 3 world titles! That is the power of the mind and the strength of his mind and character. That is what I saw when I first opened his letter many years ago. Ambition and dedication can have no boundaries.
I guess, the rest is a bit of fitness history as Rob went on to grace the covers of many fitness magazines, won many more contests and became one of Britain's best fitness exports. As you may know, it is very difficult to crack the US fitness market but Rob Riches did that. He did it beautifully and has became a well-known name as well as a much-followed fitness guru.
I am not taking credit for his success in any way but will acknowledge that it was LA Muscle that gave him his first real break and supported him throughout all those early years.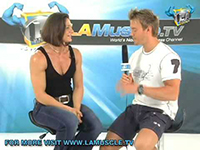 This is the difference between LA Muscle and most other supplements companies. We are not here to pay people to sing our praises or just use people's photos to sell products. LA Muscle tries to help those with a real chance to succeed in their chosen field to actually become that success. Building a nice body is relatively easy. Achieving your life's goals and having the mental strength to push through hard times and never give up are all a different story.
Rob is a terrific role model. Healthy, honest, hard-working, ambitious, ethical and a generally nice guy. He continues to push the boundaries and create world-class fitness content and I and LA Muscle wish him even more success.
Yours in training
Parham Donyai
Founder, LA Muscle