The Paul Grant UKBFF Bodybuilding championships was recently held in Wales. Many people attended and enjoyed the day. Very few asked who Paul grant was. This is a shame as Paul was an incredible bodybuilder who beat the one and only Lou Ferrigno AKA The Hulk in the 1973 Mr Universe contest.
Paul was a twin born in 1943 in Swansea, Wales, UK and started weight training at the age of 16. His wife Christine whom he married in 1967 went on to become Miss Universe Bikini.
Paul loved bodybuilding so much that in the 70s, he and Christine moved to Venice Beach in California, which at the time was THE place for bodybuilding. He trained at Gold's gym and ended up working for Joe Weider. One of his friends was Arnold Schwarzenegger and they even appeared in the much acclaimed Pumping Iron film together.
In his 30s, Paul developed a kidney disease and had to be on dialysis which eventually led to a kidney transplant in 1985. He was doing fine but 14 years later was back in dialysis.
Following his years in California, Paul moved back to Wales and opened a health food shop. He was very much involved in Welsh Bodybuilding as a figurehead and was president of the Welsh Bodybuilding Federation from 1978 for over 20 years.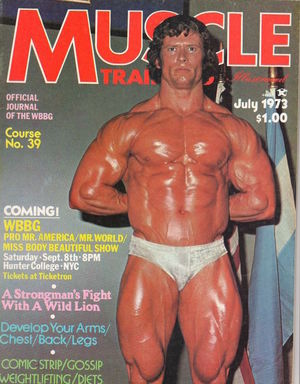 Paul was said to be an amiable, mild-mannered man. He would drive every afternoon except Christmas to the Bon-Y-Maed Community Centre just outside Swansea for three hours of weight training. He rarely missed a session.
Paul weighed 224 pounds (16 stones) at 5 feet 11 inches and had a 50 inch chest with a 33 inch waist. His diet was rigid and he stuck to it all year round. For breakfast he would eat four unsweetened Weetabix moistened with a little milk and washed down by a drink of egg powder concentrate mixed with water. These were the days before whey protein powders such as LA Whey! During the day he would eat steak, chicken and peas, with a little non-fat ice cream and four more egg powder drinks. He consumed well in excess of 9,000 powdered eggs a year!
Paul had said the he did not take steroids but only because he could put on weight without them. However controversially, he did not disapprove. "All them kids in Biafra are on steroids," he said in an interview in 1973. "Builds them up. Fills them out. Does them good, and that's a fact." This is a view that is very much frowned upon these days by most people.
Paul won several amateur titles, including the Mr Wales, Mr Britain, Mr Europe and Mr World. Very few bodybuilders have won all of these titles. He twice came 2nd in the World Championships. But his finest moment came at the Mr Universe Show at London's Victoria Palace Theatre in September 1973 when he beat many top guys in the sport including the one and only Lour Ferrigno, AKA The Hulk to be crowned Mr Universe Tall Class Winner.
Paul Grant was a positive man and had a great outlook on life. He was still training 2 weeks before his death. He died in 2003 at the age of 60.