The Knowledge > Recipes >
Monday, 9th March 2015
South West Scrambled Egg
Protein-packed with veggies, egg whites, and lean meats great for building lean muscle.
By LA Muscle on 09.03.2015 09:14 am
Ingredients: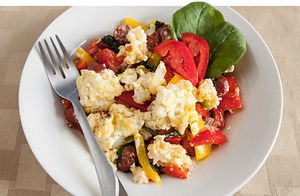 4 egg whites
1 link turkey sausage
1 small diced onion
1/4 cup diced yellow bell pepper
1/4 cup diced red bell pepper
1 handful chopped spinach
1 diced tomato
Salt and pepper to taste
Directions:
In a large pan, drizzle onions and peppers with olive oil and saute.
When the onions are clear and peppers are tender, season with salt and pepper.
Add chopped turkey sausage, and saute until sausage is golden brown.
Lower heat, add egg whites, and scramble.
When eggs are almost done, add in tomato and spinach. Enjoy with a piece of whole grain toast for a complete and nutritious meal!