The Knowledge > Recipes >
Tuesday, 27th March 2012
Tounge tingiling Spicy Beef
Spicy Beef, Broccoli and snow pea stir fry!
Ingredients: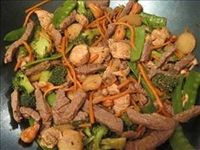 32 oz boneless skinless chicken breast
125ml reduced sodium soy sauce
15ml peanut oil
8ml hot chili oil
113g whole snow peas
2 oz cashews
226g, flowerets broccoli
3 oz carrots
3 cloves garlic
30g ginger
5 oz water chestnuts
22 oz beef sirloin
Directions:
Prepare all ingredients before heating up the Wok. Cut all ingredients to bite size pieces.
Heat wok prior to adding oil. Once pre-heated add peanut oil and hot chili oil and heat over medium-high heat.
Add garlic and ginger to hot oil and stir vigorously for a minute or so to release flavours into oil.
Once oil is hot add beef and chicken, and stir fry until almost completely done.
Add vegetables and soy sauce and stir fry until vegetables are at desired tenderness.
Nutrition:
Protein: 54g
Calories: 400kcal
Carbohydrates: 14g