The Knowledge > Recipes >
Tuesday, 16th October 2012
Spiced Chicken & Sweet Potato
Protein packed spiced chicken & sweet potato
By LA Muscle on 16.10.2012 10:49 am
Ingredients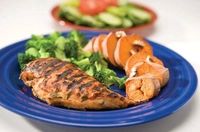 • 2 tbsp lemon juice
• 1 tbsp chili sauce
• 1/2 tbsp Dijon mustard
• 1 tsp dried basil
• 1 tsp minced parsley
• 3 1/2 oz raw boneless, skinless chicken breast
• 1 small baked sweet potato (with skin)
• 1 cup boiled (chopped) broccoli
• 1 tsp (chopped) dried pecans
Method:
1. Heat grill. Combine lemon juice, chili sauce, Dijon mustard, basil and parsley in a baking dish; mix well. Place chicken in a baking dish.
2. Cover dish and marinate chicken in refrigerator for 5 minutes.
3. Drain marinade.
4. Grill chicken over medium heat for about 10 minutes.
5. Bake sweet potato in a microwave for 8 to 10 minutes.
6. Serve chicken with baked sweet potato topped with pecans, broccoli and side salad.