The Knowledge > Recipes >
Friday, 5th December 2014
Roast Lamb with Garlic and Rosemary
A simple way of roasting lamb. Great for a special occasion if you are lowering your carbs.
By LA Muscle on 05.12.2014 10:12 am
Ingredients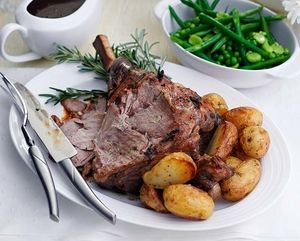 fresh rosemary sprigs
salt and freshly ground black pepper, to taste
4 cloves garlic, sliced
1 whole leg of lamb, about 2 to 3kg
Directions:
Preparation:10 mins › Cook: 1 hour 20 min › Ready in: 1 hour 30 min
Preheat oven to 180 degrees C.
Cut slits in the top of the leg of lamb every 3cm apart deep enough to push slices of garlic down into the meat. Sprinkle salt and pepper generously all over the top of lamb. Place several sprigs of rosemary under and on top of the lamb.
Roast until the lamb is cooked to medium well. Do not overcook as the flavour is best if meat is still slightly pink.