The Knowledge > Recipes >
Wednesday, 8th August 2012
Protein and Fibre Summer Salad
A delicious summer salad
By LA Muscle on 08.08.2012 12:11 pm
Ingredients: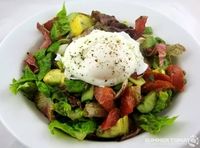 1 Large Egg
100g Cottage Cheese
1 x small Gem Lettuce
1 x Tomato
¼ Cucumber
½ Avocado
1 tbsp Extra Virgin Olive Oil
1 tbsp Malt Vinegar
1 tsp Dijon Mustard
1 tsp White Vinegar
Salt and pepper
Directions:
For the eggs, start heating a shallow pot with 1 inch deep water. Add 1/2 tsp salt and 1 tsp white vinegar. Heat the water until it barely bubbles, around 200 degrees Fahrenheit. Gently lower each cracked egg into the warm water and release it into the pan. Allow the egg to cook until the yolk has filmed over and the white is set, about 3-5 minutes.
To prepare your salad dressing, add the high-quality extra virgin olive oil and the malt vinegar into a small cup. Add 1-2 tsp Dijon mustard to taste, salt and pepper to taste and whisk with a fork for a few seconds. Taste and adjust the condiments until you like it.
Chop your vegetables and leave in a bowl until the eggs are ready. Mix in your cottage cheese or sit just underneath the egg. Pour the dressing on top, remove egg with a slotted spoon, drain off water and carefully place the egg on top of your salad.
Nutrition Value:
Calories – 390
Protein – 36g
Carbs – 11g