The Knowledge > Recipes >
Wednesday, 8th August 2012
Delicious Oatmeal Breakfast
Protein Oatmeal Breakfast
By LA Muscle on 08.08.2012 03:45 pm
Ingredients: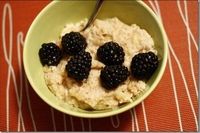 • ½ cup rolled oats
• 1/4 cup chopped walnuts
• 1-2 tbsp ground flaxseed
• 1 tsp ground cinnamon
• 1 banana, mashed
• 3 egg whites
• 1 Scoop LA Whey (Mix it in)
• 1/2 cup unsweetened almond milk (add more if desired)
• 1/2 tsp vanilla extract
Directions:
1. Whisk together egg whites and almond milk and then stir in walnuts, ground flax, banana, vanilla extract, and cinnamon; blend well and then add the oats.
2. In a medium saucepan, warm the mixture on the stove, stirring frequently, until the "oatmeal" reaches the desired consistency; this should only take a few minutes.
3. Top with berries, peanut butter, seeds or whatever else you'd prefer.