The Knowledge > Recipes >
Thursday, 29th March 2012
Pizza Chicken Salad
Pizza topping chicken salad
Ingredients: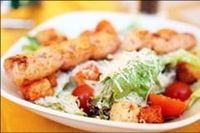 1 head iceberg lettuce, chopped
2 grilled skinless, boneless Cajun chicken breasts, chopped into small pieces
3 strips turkey bacon, cooked and chopped
1 green onion, chopped
3 oz low fat cheddar cheese, shredded
1 tomato, chopped
56g black olives, chopped
1 large whole wheat tortilla
60mlsalsa
Directions:
Layer the first 7 ingredients in a bowl.
Cut tortilla into small strips with a sharp knife. Bake tortilla at 350 degrees for 5 minutes, until crisp. Let cool, then place on top of salad
Mix the salsa and ranch dressing together.
Pour dressing over salad right before serving.
Nutrition:
Protein: 40g
Calories: 314
Carbohydrates:22g