The Knowledge > Recipes >
Thursday, 11th December 2014
Marinated Greek lamb skewers
Great for a low carb meal
By LA Muscle on 11.12.2014 12:42 pm
Ingredients: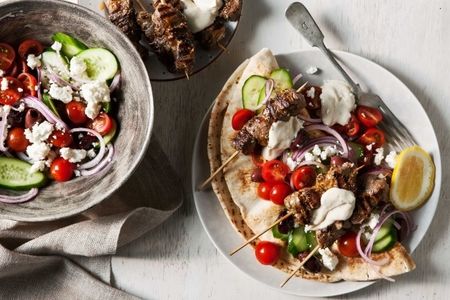 2 tablespoons extra virgin olive oil
2 teaspoons grated lemon rind
1 teaspoon dried oregano leaves
1 clove garlic, crushed
800g lamb backstraps, cut into 3cm pieces (or diced lamb)
8 wholemeal pitta bread
lemon wedges, for serving

Greek salad
2 large (440g) tomatoes, chopped coarsely
1 (130g) Lebanese cucumber, halved
lengthways, sliced diagonally
½ small (50g) red onion, sliced thinly
½ cup (60g) seeded black olives
125g fetta cheese, cut into cubes
1 tablespoon extra virgin olive oil
¼ teaspoon dried oregano leaves



Direction:
Combine the oil, rind, oregano, garlic and salt and pepper in a small bowl; mix well.
Thread lamb onto 8 skewers. Rub lemon mixture all over lamb.
Cook skewers on a heated, oiled grill plate (or grill or barbecue) until browned all over and cooked as desired.
Greek salad: Meanwhile, combine the tomato, cucumber, onion, olives, fetta, oil and oregano in a medium bowl, season to taste with salt and pepper.
Serve skewers with lemon wedges, pitta bread, Greek Salad and drizzle with extra virgin olive oil and sprinkled with parsley leaves.