The Knowledge > Recipes >
Wednesday, 11th April 2012
LA Whey Protein Macaroon's
This delicious recipe was sent to us by one of our Sponsored Athletes Cindy Garcia- Lister
Ingredients: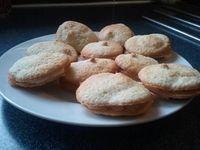 45g icing sugar
70g ground almonds
2-3 free-range egg whites
7 tea spoons of sweetener (Splenda or Truvia)For the filling
1.5 oz of fat free Greek Yogurt
1.5 scoops of LA Whey protein (flavour of your choice)
2 tea spoons of desiccated coconut
Directions:
1. Preheat the oven to 180°C or 160°C fan or gas 3. mix the icing sugar and ground almonds in a bowl, it should be a fine mixture.
2. In a separate bowl, whisk the egg whites with a pinch of salt to a soft fluffy mix, then gradually whisk in the sweetener until thick. (At this point you can stir in flavour or colour).
3. Fold half the almond and icing sugar mixture into the meringue and mix well. Add the remaining half, making sure you use a spatula to cut and fold the mixture until it is has a thick, ribbon-like consistency as it falls from the spatula. Spoon into a piping bag fitted with a 1cm plain nozzle.
4. Line 2 baking sheets with non stick baking paper MAKE SURE ITS NON STICK!. Pipe small rounds of the macaroon mixture, about 3cm across, onto the baking sheets. Give the baking sheets a sharp tap on the work surface to ensure a good 'foot'. Leave to stand at room temperature for 10-15 minutes. Bake for approximately 15 -20 minutes depending on how crispy you want them. Remove from the oven and cool.
5. Meanwhile, make the filling in a bowl, mix the Greek Yogurt and protein powder until smooth, then add the coconut. Use to sandwich pairs of macaroons together.