The Knowledge > Recipes >
Thursday, 14th June 2012
Fish and chips
Chilli rubbed high protein haddock and baked sweet potato's.
By LA Muscle on 14.06.2012 10:09 am
Ingredients: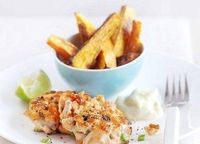 1 tablespoon ground flaxseed
1 teaspoon grated fresh ginger
1/8 teaspoon + 1/4 teaspoon salt
2 sweet potatoes, peeled and thinly sliced
2 teaspoons chili powder
1 clove garlic, finely chopped
4 (2"-thick) haddock fillets (4 ounces each)
1 tablespoon Olive oil
Method:
Preheat the oven to 375°F. Coat a 12" x 8" baking dish with cooking spray.
Add flaxseed, ginger, and 1/8 teaspoon salt. Stir to mix.
Add the sweet potatoes and toss thoroughly to coat with the mixture. Cover with aluminium foil.
Bake the potatoes for 20 minutes, or until tender but still slightly firm.
Meanwhile, combine the chilli powder, garlic, and 1/4 teaspoon salt in a small dish. Toss to mix. Sprinkle over the haddock. Drizzle with the oil. Rub the haddock to coat evenly.
Remove the aluminium foil from the baking pan. Place the fillets atop the sweet potato nest. Return, uncovered, to the oven.
Bake for 15 minutes, or until the fish flakes easily.
Plate the potatoes and haddock ready to serve.
Nutrition:
Calories: 240kcal
Protein: 32g
Carbohydrates: 16g