The Knowledge > Recipes >
Friday, 5th December 2014
Creamy pesto ravioli
Light and easy to prepare
By LA Muscle on 05.12.2014 09:45 am
Ingredients: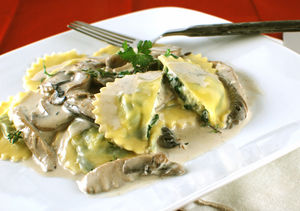 2 x 300g packets Weight Watchers Pumpkin & Sage Ravioli
75g light rocket pesto dip
1/2 cup 99% fat-free semi-dried tomatoes, chopped
1/2 cup Philadelphia light cream for cooking
2 cups baby rocket leaves or spinach
2 teaspoons lemon zest
large green salad, to serve
Directions:
1. Cook pasta in a large saucepan of boiling water, following packet directions, until tender. Drain, reserving 1/4 cup cooking liquid.
2. Meanwhile, place pesto, tomatoes and cream in a medium saucepan. Heat over low heat until warmed through and combined. Add reserved cooking liquid. Stir to combine.
3. Add pasta to sauce and toss generously to coat. Serve topped with rocket and lemon rind, and with a large green salad.